Congratulations Class of 2023 Valedictorian & Salutatorian Finalists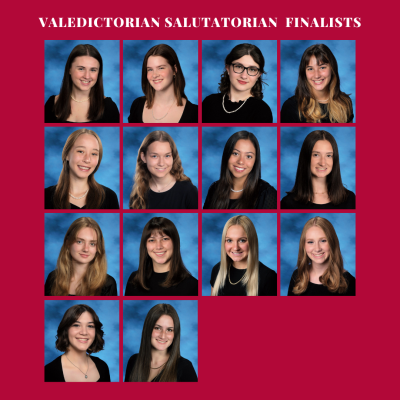 We are excited to share with you the selection of the Class of 2023 Valedictorians Allison Flynn and Angelina Hamati and Salutatorian Kathryn Byrne! Allison, Angelina, and Kathryn exemplify academic excellence, responsibility to serve, and a willingness to be a voice for dignity and respect for the Mercy community.
The Mercy Administration is humbled to have interviewed and reviewed staff and student feedback for all of our extraordinary Valedictorian/Salutatorian Finalists for the Class of 2023. We congratulate our Finalists who represent the core values of Mercy education, and thank them for their many contributions to Mercy High School:
Olivia Asam
Hannah Cronin
Valentina Hutter
Adele Jones
Rehema Klueg
Lilly Kulaga
Lea Lodato
Megan Mato
Jaye McNeil
Isabella Merucci
Marina Sneyd
Alyssa Tisch
Caroline Turco
Allison Wildern
We thank the Class of 2023 and Mercy faculty and staff for your valued input in this process. Congratulations Allison, Angelina, Kathryn, and our Valedictorian/Salutatorian Finalists!
---
Selection Criteria
The selections of the class Valedictorian and Salutatorian are made by the administrative team with input from staff and seniors using the following criteria for all candidates:
Strength of overall academic program, GPA of 3.95 or above after seven semesters,

Verification of leadership

Verification of service both inside and outside of school

Writing and speaking presence

Involvement in extracurricular activities and

Support of school policies
All qualified candidates who complete the application process are finalists.