We are pleased to be recognized as an Apple Distinguished School for 2022-2025 for our innovative use of technology in service of our Mercy mission and core values.
Apple Distinguished Schools are centers of innovation, leadership, and educational excellence. They use Apple technology to inspire creativity, collaboration and critical thinking in learning, teaching and the school environment, and have documented results of academic accomplishment. 
"A core value of a Mercy education is Educational Courage. Recognition as an Apple Distinguished school underscores that our students demonstrate this value through critical thinking experiences and their curious pursuit of better understanding their world through reflection and reasoning." – Patricia Sattler, Principal
The selection of Mercy High School as an Apple Distinguished School highlights our success as an innovator and a compelling learning environment that engages students, and provides tangible evidence of academic achievement. Mercy has been an Apple Distinguished School since 2013.
Mercy has a robust 1-to-1 student iPad program, 3 iMac Labs and offers coding and AP Computer Science courses. Mercy teachers are Apple Teacher certified and each one is supplied with iPad and MacBook. Classrooms are equipped with Apple TV and most teachers utilize Apple Classroom. Teachers use interactive apps that allow students to demonstrate their learning in various ways and require projects which are enhanced and transformed by digital art and media. 
"We constantly look for meaningful and thoughtful ways to integrate technology across grade and subject areas, with the ultimate goal of preparing our students for future success." - Christopher Janusch, Technology Integration Specialist & Apple School Manager
All students take Mercy's active learning iExplore course which centers around projects that employ engineering principles. iExplore introduces students to coding with Swift Playgrounds and STEM experiences while delivering instruction through student-centered activities that focus on problem-solving and collaboration. 
Mercy's technology vision and goals are to cultivate and support active and collaborative learning, nurture creativity, enhance STEM curriculum, assist students in becoming adept communicators through multimedia rich tools, cultivate critical thinking, and develop responsible digital habits in line with our Mercy Values. 
"It is exciting to have our commitment to evolving technology recognized in this way. At Mercy, we are proud our young women have the opportunity to be technology leaders in a collaborative learning community with dedicated educators." – Dr. Cheryl Kreger, President
Our Story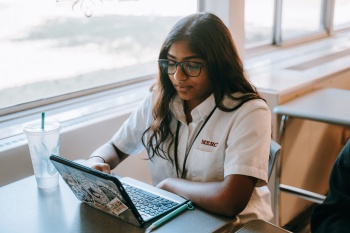 Mercy schools throughout the world are noted for their utilization of innovative ideas and best educational practices. At Mercy High School Farmington Hills, we continually challenge ourselves to enhance a cutting edge learning community with committed educators and engaged students. Our students and staff leverage technology to engender a sense of life-long discovery, collaboration, and creativity in conjunction with our Mercy Core Values, Profile of a Graduate, and Critical Concerns.
Vision
Mercy High School's vision for learning with technology is rooted in the school's mission to educate and inspire young women. We promote a more student-centered approach to learning where students are encouraged to explore new ideas and express their knowledge in creative ways. Our student technology team, the iWizards, take on an active leadership role within our technology program. They provide assistance and insight into new technology through their Tips & Tricks page, and also prepare new students for Mercy High School with their virtual orientation tutorials.
This vision is possible through the support of all members in our community. School leadership provides teachers with the freedom and resources to explore innovative approaches to their curriculum. In turn, teachers regularly seek to improve their skills and understanding through peer-sharing and professional development opportunities such as our small-group technology drop-in sessions. We constantly look for meaningful and thoughtful ways to integrate technology across grade and subject areas, with the ultimate goal of preparing our students for future success.
Learning
The utilization of technology transforms what learning looks like at Mercy High School. While classrooms are designed to provide space for active learning, our studentdriven learning approaches encourage students to explore, investigate, communicate, and engage beyond the walls of the physical or virtual classroom. Students can also utilize the various collaborative and creative spaces provided throughout the school to share ideas and produce high-quality projects. When unforeseen circumstances forced schools to shift to remote and hybrid learning, our robust 1-to-1 iPad program allowed for a seamless transition to our E-Learning model. Our teachers were able to adapt their lessons to remain engaging, rigorous, and relevant in this new environment, while students continued to collaborate with their peers and share their learning in creative and innovative ways.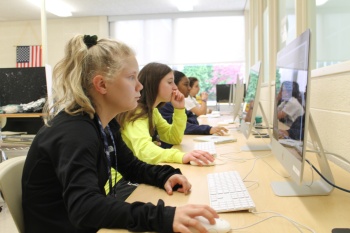 Regardless of the environment, learning and teaching at Mercy High School are always done with an eye towards Mercy's Core Values: Compelled by Mercy, Educational Courage, Inspired by Faith, Principled Leadership, and A Voice for Dignity and Respect. These are the hallmark characteristics of a Mercy Education, and serve as the ideals that we aspire to reach.
Examples of student work highlighting these values include:
Success
Surveys are regularly conducted at the class-, subject-, and school-level to determine both areas of success and opportunities for growth with our technology program. According to our Learning Technologies Survey, a majority of staff members (77.4%) reported that technology helps students grasp difficult concepts in their curriculum area. Similarly, over 90% of students reported a positive attitude towards technology use in the classroom, with many claiming the use of technology helps them stay focused and better understand lessons presented in class.
Updates to curriculum, professional development, and teaching strategies are directly influenced by the results of these surveys. For example, staff reported a desire to have students produce more high-quality video projects, which led to the creation of a professional development program centered around the Everyone Can Create curriculum.
What's Next
Looking towards the future, Mercy High School is dedicated to enhancing and innovating our technology use. To that end, we are actively working to develop our Mercy Capstone Project. This year-long research project for our senior students will take the form of a multimedia-rich presentation intended to highlight the values, knowledge, and skills they have developed while at Mercy High School. With Apple tools at our disposal, we plan to increase applied learning opportunities for student choice and ownership.