Giving to the Mercy High School Annual Fund is an investment that directly results in educating compassionate, faith-filled women who lead and make a difference in the world.
Please consider a gift to support the
Annual Fund
 and impact the life of a Mercy student today. Your tax-deductible donation to this fund enables us to cover expenses beyond what tuition allows, including crucial building improvements, educational program enhancements, and tuition assistance. All annual donors are recognized in our
Annual Report
, printed in the Mercy MOSAIC Magazine and linked on our website.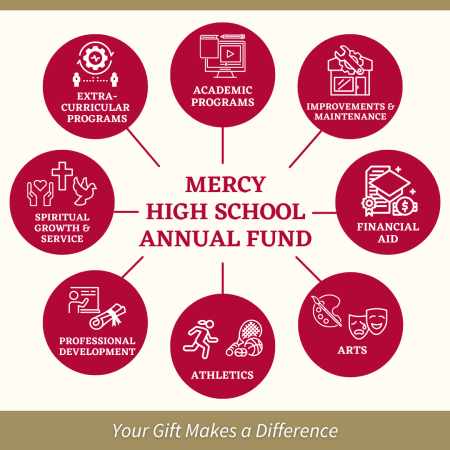 | | | |
| --- | --- | --- |
|   | Sister Regina Marie Doelker Society  | $25,000+ |
|   | Sister Mary Victorine Society  | $15,000-$24,999 |
|   | President's Circle | $10,000-$14,999 |
|   | McAuley Society | $5,000 - 9,999 |
|   | Partners in Excellence | $2,500 - 4,999 |
|   | Maroon & Gold Circle | $1,000 - 2,499 |
|   | Champions of Mercy | $500 - 999 |
|   | Mercy Leaders | $250 - 499 |
|   | Mercy Supporters  | Up to $249 |
---
Sr. Regina Marie Doelker, RSM '56 Giving Society
Sr. Regina enrolled in Our Lady of Mercy High School in 1952, graduating as valedictorian of her 1956 class. She joined the Sisters of Mercy that September. 
Sister Regina was appointed Principal of Mercy High School in Farmington Hills in 1986, a position she held until 2001. She then served as the first Mercy High School President from 2002 to 2010. In semi-retirement, Sister Regina enjoyed being a volunteer tutor at her beloved Mercy High School. During her professional life, Sister Regina completed a master's degree in mathematics at the University of Detroit and a master's degree in administration from the University of Dayton. In 1997, she was honored as Principal of the Year by the Catholic Association of Secondary Principals. She was a woman of deep faith and a capable and caring administrator. She was a faithful Detroit Tigers fan, a friend forever, one who was avid in preparing women who make a difference, as well as a truly remarkable woman.
Sr. Mary Victorine Rapin, RSM Giving Society
Sister Victorine was the first Assistant Principal of Mercy from 1946-1951 and she was appointed Principal in 1952. During her 17 years as Principal, Mercy High School expanded from 125 to 1,300 students and outgrew its location, prompting the move to its current site in Farmington Hills. Under Sister Victorine's guidance, the school developed a tradition of excellence in academic discipline. She initiated several customs that have become hallmarks of the school, including the graduation ceremony with white gowns and red roses. In 2002, Sister Victorine was inducted into Mercy High School's Hall of Fame where she was recognized for outstanding leadership in administration and for being the guiding force for the 'old' and the 'new' Mercy High School.
President's Circle
The President's Circle honors those donors who have shared in our mission through an annual leadership gift of $10,000 or more to the Annual Fund. Mercy counts on these leadership gifts to provide many enhancements to our programs and campus. These leadership donors are honored annually at the President's Reception held in the fall and in our Mercy MOSAIC Magazine. All individuals, families or corporations making a leadership gift are invited to be members of the President's Circle. President's Circle members are an elite group of committed donors who agree to invest their ideas, creativity and expertise for the betterment of our school. President's Circle members model how one generation can help the next. They demonstrate to their fellow alumnae, parents and friends that giving to Mercy is an excellent investment - one that directly results in educating and creating Catholic women who lead and make a difference in the world. As a member of the President's Circle, your philanthropy can help define Mercy and inspire others to support our school's mission.
Advancement Office