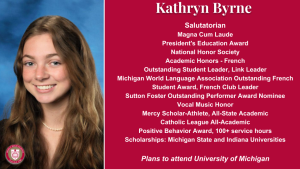 Class of 2023 Salutatorian
Kathryn Byrne
A Mercy Education is defined by the core values and student attributes that combine to create the desired Profile of a Mercy Graduate. Our 2023 Valedictorians and Salutatorian were selected by their fellow classmates, teachers and administration because they each exemplify, model and represent the Mercy Graduate Profile. They are:
Compelled by Mercy

Demonstrate educational courage

Are inspired by Faith

Practice Principled Leadership

Are a Voice for Dignity and Respect
When asked to describe herself, the word Kathyrn uses is determination. It is this fortitude and focused persistence - an inner strength Kathryn uses to reach her outstanding accomplishments. Yet to Kathryn, personal accomplishments alone don't bring her fulfillment. It is the relational connections Kathryn has made within her Mercy journey that has helped her connect to her Mercy sisters and learn the most about herself and others. Kathryn knows that women who make a difference are those who know their passion and values, and are true to them.
We are grateful for Kathyrn sharing her outstanding talents with us through Mercyaires and our performing arts productions where she has assumed lead roles and feels most at home. Yet, Kathryn has continually challenged herself to make connections outside the stage. She is an Executive Board Officer, Link Crew Leader, has been a freshman, sophomore and junior class officer, a French Club Leader, Debate Club Leader, and international Thespian Society member. 
Academically, Kathryn graduates Magna Cum Laude, received the President's Education Award and is a member of the National Honor Society. Her academic record at Mercy includes multiple honors and challenging AP courses.
Kathyrn's peers attest to her self-confidence, positive presence, leadership skills, academic strength and gentle kindness that make her a perfect representative of the Class of 2023. 
We congratulate Kathryn on being Mercy Salutatorian and wish her the best as she plans to attend the Ross School of Business at the University of Michigan in the fall. She aspires to ultimately use her business acumen to connect and inspire inner city students at public schools with low graduation and retention rates to trade schools and internships opportunities.