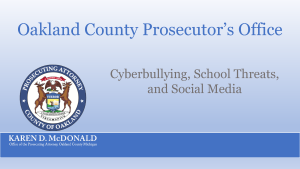 SPECIAL OAKLAND COUNTY ASSEMBLY PRESENTATION
Last week, Mercy HS hosted the Oakland County Prosecutor's Office for an important presentation of "Cyber Bullying, School Threats, and Social Media" for all staff and students. Thank you to Gabrielle Meyer, Assistant Prosecutor, for addressing the legal ramifications that can come from juveniles' actions on social media and the most prevalent platforms used. This important topic is relevant to our students as they navigate using their voices appropriately, for personal and world topics, and recognize the effects of their actions on themselves and others. 
You may view the presentation slides and the assembly recording using the links below.