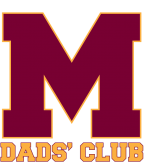 MEETING NOVEMBER 1, 2023
We would like to welcome all parents and guardians to the Mercy Dads' Club November meeting to be held at Mercy High School on Wednesday, November 1, 2023 from 6:30pm to 9:00pm.
There is much going on at Mercy with the newly structured Office of Mission and Ministry, the State of the School, DEI & Belonging and many other happenings. Members of Mercy Administrative Team will be in attendance to give everyone an overview of the current state of affairs. Please join us as we welcome...
Mary Kate Becker (Director of Ministry & Catholic Identity)
Dr. Cheryl Kreger (President)
Patricia Sattler (Principal)
Traci Smith (Director of Diversity, Equity, Inclusion & Belonging)
Eleasha Tarplin (Dean of Student Affairs)
To make sure that everyone's questions and concerns will be answered or discussed, please enter any topics that you would like to get an update on in the comment section of the Sign-Up Genius. They will be forward to Administration.
As always, social time and dinner will begin at 6:30pm with the meeting being held from 7:00pm to 9:00pm.
---