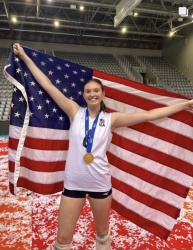 Campbell Flynn '25 Team USA Volleyball
Congratulations to Marlin Volleyball standout Campbell Flynn '25 who represented Team USA over the summer. She helped Team USA put together a 14-0 record and win gold in early August at the FIVB U19 World Championships in Osijek, Croatia. A few weeks later, she joined Team USA's U21 team for the World Championships in Guanajuato, Mexico.
Be sure to learn more about Campbell's experience in the article "Campbell Flynn sets off to new levels" on page six of Mercy Newsprint here.