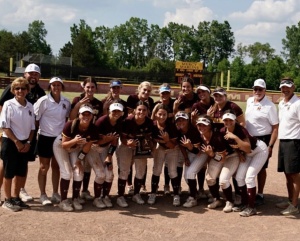 D1 No 4 Mercy Earns 2023 District Championship
By StudentandAthlete.org
Division 1 No. 4-ranked Farmington Hills Mercy cruised to the Michigan High School Athletic Association District 20 Softball Championship on Saturday, June 3 at Mercy.
Mercy beat Farmington 10-1 in the championship game. 
Asia Barbato pitched four innings, allowing one run, three hits and striking out nine for Mercy. Kaitlyn Palozzi pitched three perfect innings in relief, striking out nine.
Sophie Chaput had two hits and scored two runs. Evelyn Miller and Sabrina Shea both drove in two runs.
Mercy beat North Farmington 16-0 in six innings and Farmington topped West Bloomfield 11-1 in five innings in the district semifinals.
Mercy (28-0) advances to face No 8-ranked Walled Lake Northern (25-5) in the Region 5 semifinals on Saturday, June 10 at White Lake Lakeland.