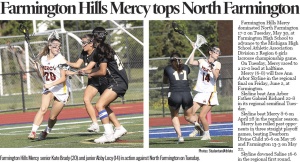 Farmington Hills Mercy tops North Farmington 2023
By Student & Athlete
Farmington Hills Mercy dominated North Farmington 17-2 on Tuesday, May 30 at Farmington High School to advance to the Michigan High School Athletic Association Division 2 Region 6 girls lacrosse championship game.
On Tuesday, Mercy raced to a 12-0 lead at halftime.
Mercy (6-8) will face Ann Arbor Skyline in the regional final on Friday, June 2 at Farmington.
Skyline beat Ann Arbor Father Gabriel Richard 22-8 in its regional semifinal Tuesday.
Skyline beat Mercy 8-6 on April 28 in the regular season.
Mercy has rolled past opponents in three straight playoff games, beating Dearborn Divine Child16-6 on May 26 and Farmington 13-3 on May 22.
Skyline downed Saline 16-6 in the regional first round.