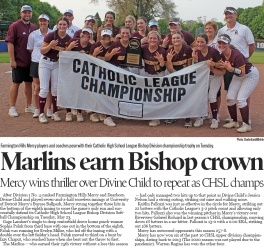 By Student & Athlete
Mercy wins thriller over Divine Child to repeat as CHSL champs
After Division 1 No. 4-ranked Farmington Hills Mercy and Dearborn Divine Child played seven-and-a-half scoreless innings at University of Detroit Mercy's Buysse Ballpark, Mercy strung together three hits in the bottom of the eight inning to score the game's only run and successfully defend its Catholic High School League Bishop Division Softball Championship on Tuesday, May 23.
Gage Lambert's single to deep centerfield drove home pinch-runner Sophia Paluk from third base with one out in the bottom of the eighth. Paluk was running for Evelyn Miller, who led off the inning with a double over the left fielder's head. Paluk moved to third on a bunt by Izzy Chaput, who reached base when she beat out the throw to first.
The Marlins - who earned their 25th victory without a loss this season - had only managed two hits up to that point as Divine Child's Jessica Nelson had a strong outing, striking out nine and walking none.
Kaitlyn Pallozzi was just as effective in the circle for Mercy, striking out 22 batters with the Catholic League's 3-4 pitch count and allowing only two hits. Pallozzi also was the winning pitcher in Mercy's victory over Riverview Gabriel Richard in last season's CHSL championship, mowing down 18 batters in a no-hitter. Pallozzi is 13-0 with a 0.00 ERA, striking out 186 batters.
Mercy has outscored opponents this season 257-8.
Mercy has now won six of the past 10 CHSL upper division championships dating back to 2013 (2020 not played due to pandemic). Warren Regina has the other four.