2023 End of Year Staff Recognition
Congratulations on your Retirement!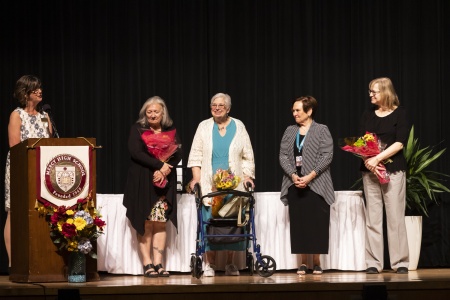 We are blessed at Mercy HS to have an entire staff who believe in the strengths of a Mercy education, and work diligently to make that education a reality for our students. The following women have touched our lives and made such a positive impact on Mercy.  After years of sharing their extraordinary character, gifts and talents with us, they have decided to retire and we wish to acknowledge each and wish them the best. 
Mrs. Marianne Corrigan
There is no bigger "All Things Mercy Fan" than Mrs. Marianne Corrigan.  From her first day joining us, she embraced Mercy and continues to be our proudest cheerleader.  Whether it be for an athletic event, the annual auction, student fundraiser or any activity in general, Mrs. Corrigan's face beams with love and pride for Mercy and our students. 
Mrs. Corrigan works to make sure each student's unique talents shine. Throughout each summer, she composes customized sheet music for every student, so once the school year begins they are best supported to showcase their chosen instrument both independently and as an ensemble. She coordinates instrument repairs, garners donations for the department (such as our recent handbells addition) and coordinates the student orchestra for both the Christmas and Spring recitals.
Mrs. Corrigan has played instrumental for the Val/Sal Tea ceremony, and joined in with her students during school recitals and other activities. We will find no heart bigger for the support of Mercy. We are truly grateful for Mrs. Corrigan's many contributions and look forward to her relaxing in the Fall yet still cheering on the Marlins from the sidelines!
Mrs. Judi Dennis
 
Mrs. Judi Dennis is retiring while forever leaving an impactful mark on Mercy High School. No one can capture her impact better than Fr. Pat Brennan who shared at our May Crowning Mass that through Mrs. Dennis, so many have seen the face of God.  She has been steadfastly committed to finding ways for students and staff to connect our charism to our Catholic core beliefs, and the values of a Mercy education.
Our entire community witnesses her deep care for Mercy HS, our students and the Campus Ministry program. Her leadership, development and support of our service programs, coordination of prayerful and liturgical experiences, KAIROS opportunities, founder of our Youth Mercy Associates chapter, Make a Difference Day, and so many other experiences will continue to  meaningfully uplift the dynamic and far-reaching needs of our students and staff.  
She supports the Sisters of Mercy in their liturgical experiences here at Mercy, and works tirelessly to ensure our charism and faith are ever present throughout the school.
Mrs. Dennis will be missed, yet we are confident that she will  continue to touch people's lives and carry forth Catherine's important work!
Mrs. Pat Scheid
 
Mrs. Pat Scheid is a gentle and faith filled leader who has managed the reception area with grace and the calm expertise of an air-traffic controller during the busiest of times! Mrs. Schied is not only a multi-tasking expert, yet she does this with kindness, a welcoming smile and the utmost efficiency. Our reception area always reflects the important "need-to-knows", celebratory news and charism of our Mission thanks to Mrs. Scheid's efforts. 
Mrs. Scheid has been the driving force behind many of our updated security measures, and she is always proactive in ensuring the safety of our staff and students is prioritized. She has served on our school Mission committee and Emergency Operations Team. She participated in and has taken an active leadership role in our Mercy Advisory Committee, a staff body responsible for working with the Mercy administration to continually improve the work environment for our team.  
She is a problem solver, a project manager, the overall coordinator of the school's daily operations, and the calming voice over the PA system. Her responsibility list is immense, yet she always makes it seem seamless. Daily, she is the point of first contact for students, staff, parents, guests and volunteers. Mrs. Scheid's role is significant, and we are very grateful for her enormous contributions throughout the years!    **Congratulations and thank you, Mrs Scheid!**
Farewell Mrs. Trish Brown!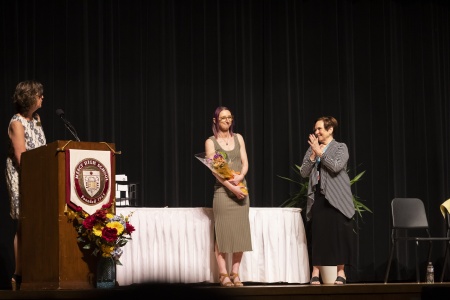 15 years ago, Mercy identified a need to create a position within the counseling department to specifically support the need to welcome and assist incoming 9th graders and their parents as they navigated the complexities of transitioning to high school. Thus, the 9th grade counselor position was born. Mrs. Brown was tasked with developing the program, and from that request she created the stellar support we have today. Our 9th grade program now serves as a model for other schools. 
Always professional, yet playful in spirit with her students, Mrs. Brown brought the Link Crew experience to Mercy, where we are again a model school in this programming, resulting in her training others to the same excellent standards. I'm sure you all remember your first orientation day here at Mercy and your continued interaction with your Link Leaders - and can recall the important impact that had. 
Mrs. Brown's contributions extend beyond the 9th grade students, as the mental health and wellbeing of all students is a priority within her heart. She proposed and worked with students to start the Peer to Peer program, is the author behind our monthly Counseling Newsletter, created our calming kits, and is responsible for many other supportive ideas throughout the year. She also serves as the Counseling Department Chair.
Mrs. Brown will be missed, yet her legacy will carry on!