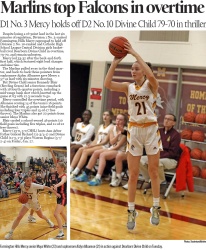 Marlins Top Falcons in Overtime
By Student & Athlete
D1 No. 3 Mercy holds off D2 No. 10 Divine Child 79-70 in thriller
Despite losing a 16-point lead in the last six minutes of regulation, Division 1 No. 3-ranked Farmington Hills Mercy regrouped to hold off Division 2. No. 10-ranked and Catholic High School League Central Division girls basketball rival Dearborn Divine Child in overtime 79-70, and remain unbeaten.
Mercy led 33-32 after the back and forth first half, which featured eight lead changes and nine ties.
The Marlins pulled away in the third quarter, and back-to-back three-pointers from sophomore Aizlyn Albanese gave Mercy a 57-41 lead with six minutes showing.
But Divine Child senior Kennedy Blair (Bowling Green) led a ferocious comeback with 18 fourth-quarter points, including a mid-range bankshot which knotted up the game at 63 with 12.3 seconds to go.
Mercy controlled the overtime period, with Albanese scoring 14 of the team's 16 points. She finished with 45 points (nine field goals including four triples and 15 of 17 free throws). The Marlins also got 22 points from senior Maya White.
Blair carded a school-record 46 points (10 field goals including five triples, and 11 of 12 free throws).
Mercy (13-0, 5-0 CHSL) hosts Ann Arbor Father Gabriel Richard (11-3, 4-1) and Divine Child (11-3, 1-3) plays Warren Regina (5-7, 2-4) on Friday, Jan. 27.