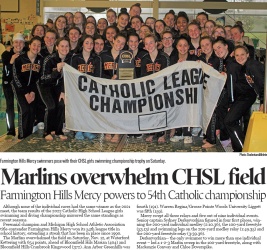 Farmington Hills Mercy powers to 54th Catholic League Championship
By Student & Athlete
Although none of the individual races had the same winner as the 2021 meet, the team results of the 2022 Catholic High School League girls swimming and diving championship mirrored the same standings as recent seasons.
Perennial champion and Michigan High School Athletic Association title-contender Farmington Hills Mercy won its 54th league title in school history extending a streak that has been in place since 1990.
The Marlins overwhelmed the field on Saturday, November 12, at Waterford Kettering with 654 points, ahead of Bloomfield Hills Marian (404) and Cranbrook Kingswood (372). Ann Arbor Greenhills was fourth (191). Warren Regina/Grosse Pointe Woods University Liggett was fifth (159).
Mercy swept all three relays and five out of nine individual events. Senior captain Sydney Dekervorkian figured in four first places, winning the 200-yard individual medley (2:10.36), the 100-yard freestyle (53.13) and swimming legs on the 200-yard medley relay (1:49.35) and the 200-yard freestyle relay (3:39.36).
Derkervorkian - the only swimmer to win more than one individual event - led a 1-2-3 Marlin sweep in the 100-yard freestyle, along with Mackenzie Conway and Chloe Doverspike.