Campus Upgrades 9/22 Update!
Have you seen the recent upgrades to our beautifully enhanced Athletic Locker Room? Phase I of the project is now complete! Check out the before and after pix! Fundraising is well under way for Phase 2 as we next tackle the shower area.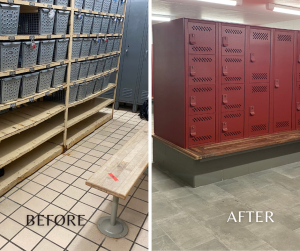 The Athletic Hall of Fame, to be located outside the gym, is currently in design mode and will be officially unveiled at the September 30th induction ceremony during the President's Reception. Watch for more details as we approach this exciting date!
Our Advancement Team is also fundraising in support of the Visual Arts Department's need for a new kiln, pottery wheels, flooring and cabinet along with other campus improvements.
If you have not seen the recent enhancements or if you're interested in supporting any of these projects, please contact the Advancement Office at advancement@mhsmi.org.