CONGRATULATIONS MERCY HIGH SCHOOL PERFORMING ARTS!
The United States of Frozen: Love is an Open Door
This special nationwide competition grants one (1) high school in every U.S. state and territory the rights to produce Disney's Frozen: The Broadway Musical.
September 9, 2022
Mercy Performing Arts is proud to announce we have been chosen as the only school in Michigan to win exclusive rights to produce "Disney's Frozen: The Broadway Musical" as part of "The United States of Frozen: Love Is an Open Door" nationwide competition! We are planning for the show on the Mercy stage in March 2024.
Watch this special announcement: https://youtu.be/YpzKhGhGp_g
Prize Package Includes:
Rights to produce three (3) free performances of Frozen*

Schools may present additional performances with paid royalties.
Capacity limit of 500 audience members per performance. For greater than 500 per performance, royalties will apply.
Additional grants may be available for under-resourced schools.

Free digital script, score, and 21-piece orchestration (Performance Accompaniment Tracks will not be provided)
Free logo pack
Free video license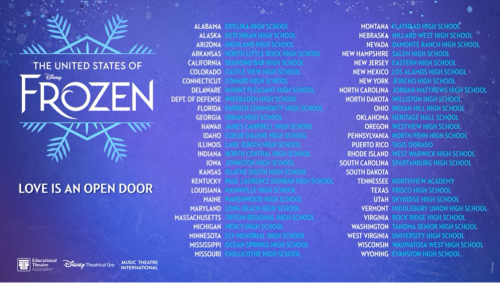 Application Information & Background:
Over the summer of 2022, Performing Arts Chair Mrs. Shelley Bajorek led a task force to apply for this prestigious nationwide high school contest and prize package The United States of Frozen: Love Is an Open Door. Part of the application included preparing concept art and a proposal of ideas using the theme "Love is an Open Door" with our Mercy Community. Along with proving our dedication to service, outreach and inclusivity. Special thank you to Mrs. Bennetts, Mrs. Traci Smith, Mrs, Becker, and Aimee Crosby for their support and participation.
The proposal included the concept to highlight the Critical Concerns of the Sisters of Mercy. The story of Frozen aligns so well with these ideals: Anna and Elsa are strong independent women (Concern of Women and Women's issues) who welcome strangers from afar into their kingdom (Concern of immigration) They are friendly with the Hidden Folk whose magic keeps them segregated from society. Elsa herself also experiences that isolation. (Concern of Racism) Elsa's snow powers lead to concerns over the natural seasonal changes (Concern of Earth) and of course, Anna saves her sister in the end by almost sacrificing herself against Hans' violence against Elsa (Non-Violence).
"In our proposal, we shared our unique position as a school which educates women who make a difference.  We shared how our students are the driving force behind the performing arts department, taking leadership roles to run everything from lights and sound, to scene changes and costume changes. I shared our dedication to service and education, including our annual Focus Hope and Make a Difference Day events, along with our affiliations with Strangers No Longer and One Love. Mercy is truly a special place and this is truly amazing for Performing Arts and the entire Mercy Community!" - Shelley Bajorek