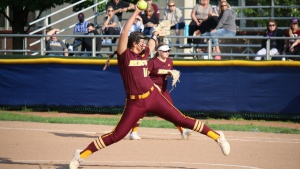 Kaitlyn Pallozzi has become freshman phenom for Farmington Hills Mercy
By Cody Kluge, BVM Sports Journalist/Editor
FARMINGTON HILLS, Mich. (BVM) – No matter the sport, a high school freshman's first chance in a game or competition usually comes along with some nerves. Often, it is also a learning experience to get better for the future.
For Farmington Hills Mercy freshman Kaitlyn Pallozzi, both of those things may have rang true as she took the circle for the first time this spring for the Marlins. However, she also had the game of her life in that first contest, throwing a 14-strikeout no-hitter against Dearborn Divine Child.
"I was really excited to pitch in my first high school game, I worked really hard to get there," Pallozzi said. "I go into every game expecting to keep batters from getting on base, so I just felt like I was doing my job to help my team win."
As if the no-hitter wasn't impressive enough, just days later, Pallozzi threw a perfect game in which she struck out all 21 batters she faced, joining around a dozen other softball players in the state of Michigan to ever accomplish the feat. 
"It didn't really sink in until the end," Pallozzi said. "I certainly didn't think it was that big of a deal nor did I expect all of this attention."
Pallozzi may be humble, but she has burst on the scene as a freshman phenom who is helping lead Farmington Hills Mercy to plenty of success. Finding success in the sport is nothing new for the 6-foot pitcher, who has been doing so ever since she began playing in first grade.
Also a former basketball player and current varsity volleyball player at Farmington Hills Mercy, Pallozzi fell in love with softball right off the bat. Her tall frame has long given her an advantage in the circle, but so too has her calm, level-headed demeanor, which has become one of her greatest attributes while pitching in some of these big moments.
"I think staying calm and focused on the task at hand, that helps my teammates believe that we can do great things together," Pallozzi said. 
Growing up, Pallozzi was drawn into the sport thanks to watching her older siblings, Julia and Jacob, also pitch in their respective sports of softball and baseball. 
"I really grew up at the diamond following them around," Kaitlyn said. "They were also both pitchers. I loved that they were a part of the game and I knew that's what I wanted to be."
Playing rec ball and with teams locally, Kaitlyn decided to take her game to the next level by joining Texas Glory Midwest when she was 12 years old. From there, she finally got an opportunity to shine against high-level competition.
"I didn't get a lot of opportunities until I went to Texas Glory," Kaitlyn said. "Texas Glory Midwest means everything to me. My coaches believe in us and what we want to be. My coaches have made me who I am today."
Last summer, Kaitlyn helped Texas Glory to a USA Elite Select World Fastpitch championship in Iowa. She will hope to replicate that success as she plays this summer, looking to continue progressing in the game.
"I hope to continue to grow as a team and as individuals," Kaitlyn noted. "I can't wait to get back with them."
It is perhaps some of the moments she has had with Texas Glory that had Kaitlyn so prepared to star in her first high school softball season. In January, Kaitlyn started training at Farmington Hills Mercy, forming a connection with sophomore catcher Kat Burras – daughter of Marlins' head coach Corey Burras.
"It didn't take me long to know that Kat Burras was a great catcher and I was very confident in her ability behind the plate," Kaitlyn said. "My one goal this season was to build on last year's success and do everything I can to help my team win a state championship."
Kaitlyn has continued to take steps to do that throughout the season. After her incredible start, she has maintained her success, racking up double-digit wins with an ERA around 0.75, and also averaging well over 17 strikeouts per game. 
Last month, she struck out 19 batters in another no-hitter to help the Marlins win the Catholic League Bishop Division championship.
"I was really happy that we won because we have had a record of winning the Catholic League championship," Kaitlyn said.
Even more rewarding in the game for the 14-year-old was breaking out of a hitting slump and belting a home run. As good as she has been in the circle, Kaitlyn has also displayed her talent at the plate throughout the season, batting around .400 and leading her team in RBIs. 
"The rest of the season has gone really well," Kaitlyn said. "As a pitcher, hitting has always been very important. Even if you hold the other team to zero runs, you can't win if you can't score."
After making the state semifinals last year, Farmington Hills Mercy has again been dominant, ranked No. 6 in the season's final Division 1 poll from the Michigan High School Softball Coaches Association.
Farmington Hills Mercy will next do battle with Grosse Pointe North in the regional semifinals. From there, they will look to make it back to East Lansing to this time claim a state championship.
"We play again this weekend and hope we are on our way to winning a state championship," Kaitlyn noted.
If the Marlins do win a state title to end the season, it will likely be thanks to their pitching staff. In addition to Kaitlyn, Farmington Hills Mercy boasts a tandem of sophomore stars in Asia Barbato and Sophia Paluk, who have both shined in the circle over the last two years. This season, the pitching trio has combined for an ERA around 1.25.
"I believe we've all pushed each other to improve as players and teammates," Kaitlyn said. "It's very beneficial to have them on the staff to keep our arms fresh and ready to go when called on. We can be a force to be reckoned with for the next two years, at least."
Like Barbato and Paluk last year, Kaitlyn has received plenty of notice and recognition throughout her freshman season. While perhaps overwhelming at times for someone so young, the pitcher has stayed focused on what she can control in the moment as she strives to get better.
"All of the recognition is special and surreal," Kaitlyn said. "It can also be distracting at times, but my parents tell me to stay focused and remind me that we're only as good as we are today, and we need to continue working hard to be good tomorrow."
Of course, the hot start to her high school career has many already wondering about a potential college softball future. Kaitlyn will look to get to that level by the time her high school career is done. However, also planning for a future career as a pediatric nurse, it will come down to whatever school can best set her up for the future.
"I haven't talked to any colleges yet," Kaitlyn said. "I want to be a pediatric nurse, so I'm looking for schools that will guide me on that path. I'll bring a work ethic, friendly demeanor and competitive spirit to any program that gives me the opportunity to play with them … I love softball and look forward to playing it at a high level for as long as I'm able."
But for now, the freshman phenom is solely focused on her time at Farmington Hills Mercy, and what she can accomplish before her time with the Marlins is done.
"I want to improve as a pitcher and a leader on the field," Kaitlyn concluded. "I want to be remembered as a good teammate and someone that people enjoyed playing with."