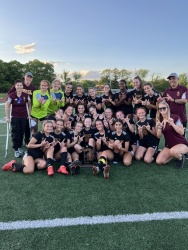 Mercy Varsity Soccer captured the District Championship on June 2, 2022.
Farmington Hills Mercy wins district crown
By Student and Athlete
Unranked Farmington Hills Mercy edged No. 8-ranked Livonia Stevenson 1-0 in overtime to earn the MIchigan High School Athletic Association Division 1, District 7 girls soccer championship on Thursday, June 2 at North Farmington.
Senior Kristen Fitzgerald scored the eventual game winner in the first half of overtime for the Marlins. Freshamn Jordan LeVasseur earned the shutout in goal.
Mercy beat Farmington 5-0 and Stevenson edged Novi 4-3 in overtime in the district semifinals Tuesday, May 31.
Mercy (11-5-3) advances to face defending MHSAA Division 1 champion and No. 3-ranked Harland (13-2-3) in a Region 2 semifinal on Tuesday, June 7 at Novi Meadows Stadium. Unranked Lake Orion (11-7-3) faces No. 12 ranked Bloomfield Hills (11-2-3) in other regional semifinal.