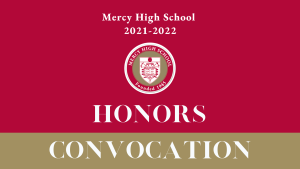 MERCY HS 2022 HONORS CONVOCATION
Leadership. Service. Character. Excellence.
We are proud to present the Honors Convocation Slideshows for the Senior Graduates Class of 2022 and Freshwomen, Sophomores and Juniors. We honor, recognize and congratulate our outstanding Mercy students for an extraordinary 2021-22 school year! You make Mercy shine and are women who make a difference!
God Bless the Class of 2022 and special congratulations to these honorees:
Valedictorian Julia Rea
Salutatorian Anna Rimatzki
Sr. Emily George Award Grace O'Dea
Heart of Mercy Award Riley Condon
Garn Griffin Award Madeline Basa & Kendall Spivey
Nancy Malinowsk Athletics Award Sarah Cunningham
Teacher of the Year Jill Herold
Staff Retiree Vicky Kowalski