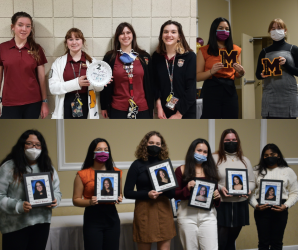 Mercy Quiz Bowl wrapped up its local league season and hosted the championships on February 15. At the end of the season, Mercy Varsity Gold finished 11-1, earning 2nd place in the division and qualifying for NAQT Nationals in Atlanta. Mercy JV also finished 11-1, earning 2nd place in their division and qualifying for JV Nationals in Chicago. Congratulations to all five Mercy teams!
Varsity Gold (11-1, 2nd place): Caitlyn Begosa '22, Natasha Bouras '22, Meghana Govindaraj '22, Carly Madden '22
Varsity Maroon (7-5, 7th place): Lily Fromm '22, Sophia Gabbei '22, Juliana Santillan '22
JV (11-1, 2nd place):  Anna Boesch '23, Caitlin Condon '23, Linny Maier '23, Isabella Merucci '23, Caroline Turco '23
Novice Maroon (7-5, 3rd place): Haleigh Cameron '25, Isabella Casab '25, Lily DeGrenier '24, Riley Manwell '25, Isabella Portillo '23, Micah Rogers '24
Novice Gold (2-8, 6th place): Aniyah Baker '24, Carson Kecskes '24, Miranda Lebednick '24, Ellery Long '24, Kelsey VanDenBerg '24
The team gathered for its annual banquet on February 22, where Anna Boesch '23, Natasha Bouras '22, and Linny Maier '23 were awarded their Varsity Letters for outstanding academic performance. In addition, the team's seven graduating seniors were recognized for their dedication to the team.