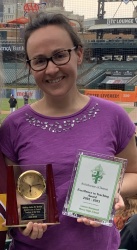 2023 AOD Teacher of the Year Mrs. Lauren Marquard '06
We proudly and enthusiastically share that Mercy Teacher of the Year, Lauren Marquard '06 received the Bishop John M. Quin Archdiocese of Detroit Secondary Teacher of the Year Award! The award was announced May 19 at Comerica Park as the Office of Catholic Schools recognized each school's Teacher of the Year nomination. One elementary and one secondary teacher was selected from all nominees within the Archdiocese - and Lauren is this year's secondary teacher awardee! Recipients of Bishop John M. Quinn awards set a high bar for innovation, service and commitment to academic excellence.
About Mrs. Marquard
Mercy High School Latin teacher Lauren Bennett Marquard '06 exemplifies the Mercy HS Mission in modeling what it means to be a faith based educator both within and outside the classroom. Her moral character, spiritual support for students, practice and display of her Catholic faith, and commitment to academic excellence are woven throughout all she does. She is inspirational to all who have the privilege of interacting with her.
Lauren's students are welcomed and uplifted in a classroom warmed with spirituality, prayer and a belief that God intends for each student to reach her maximum potential. Lauren created and continually enhances a 4-year Latin program that challenges and nurtures each student so she may successfully grow - not only in content area, yet as a faith filled woman who is confident in her ability and awareness of God's love for her. In her time at Mercy HS, Lauren has doubled the size of the Latin program and greatly expanded its course offerings, including a standard and an honors track, for students of all abilities and interests. It is incredible and humbling to see the personal and academic development of Lauren's students as they matriculate throughout the years. Lauren's expertise and passion for teaching is recognized beyond Mercy High School. The University of Michigan LSA Classical Studies Department recognized her as the 2022 recipient of the Glenn M. Knudsvig Award for Outstanding Latin Teaching in Michigan Secondary Schools. She has also been recognized by the AP Board, given the title of Table Leader in charge of correctors of the AP Latin Exam. She also serves on the National Latin Exam Writing and Steering Committee.
Lauren co-moderates our school's Pro-Life Club, informing and encouraging students to courageously defend the sanctity and dignity of life for all. Actively advocating for the rights of the unborn during this time of social volatility is a challenge for which Lauren remains steadfast. She is a voice for dignity and respect, not only in words - yet most importantly in action. She is a beacon of light in guiding our students to remain prayerful and to not fall prey to social influences that disregard respect and safety for the marginalized.
Lauren is impactful to the extra-curricular programming at Mercy High School. She has ignited our Quiz Bowl team to be an overwhelming success, growing the program and student accomplishments. In a recent National Quiz Bowl competition, only the top 15% of teams were invited to join. Mercy was one of only 10 Michigan schools that qualified, empowering our all-female team. Our National Junior Classical League Chapter (Lauren served as the State Chair of the Michigan JCL from 2015-2019) continues to grow in membership with Mercy students excelling in categories of national awards. It is not simply the extra-curricular activities, but Lauren's encouragement, kindness and faith based relational approach that inspires our students to be involved in experiences and classes that she leads.
A Mercy student shares, "Mrs. Marquard's class is the favorite part of my day. She spends her teaching career making sure her students have the best opportunities they could ever possibly have. She has changed my life by growing my confidence when I make mistakes, and encouraging me to push myself to try new things." Another adds, "Mrs. Marquard's care for each student extends from solely academics. She is also very supportive of her students' spiritual growth. Mrs. Marquard is the true definition of living your faith through example and she will always be my role model. She meets students where they are and walks alongside us in our educational journey, creating a learning environment that is exciting, engaging and allows for students to take risks and grow."
Each year, Lauren takes students on a trip to Italy so they may actively relate what they learn about the Roman Empire's reach and the influence of the Latin language throughout all of Europe. This is yet another example of Lauren's selfless actions to promote students' willingness to embrace life and better appreciate God's beautiful creation and gift of a world for all to care for and enjoy.
Lauren also advocates for staff in issues of equity and justice. She is a member of the school Mercy Advisory Council, a representative body that ensures fair compensation and practices for all who share their talents as an employee of the school.
Lauren is humble, loving, faith filled, and mission driven. She is a champion for the academic achievement and spiritual enrichment of her students. She is a leader in her field and in modeling and encouraging Catholic faith practices.