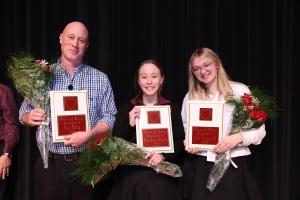 2023 Heart of Mercy
We are proud to announce and congratulate the 2023 Heart of Mercy Award recipients Mia Juday '23, Rehema Klueg '23, and Religious Studies Teacher Mr. Curt Klueg. Thank you for being inspirational leaders who live out the Mercy values!
"Mia lifts up those around her and is a blessing to all she encounters. She is the essence of Mercy."
"Rehema is rooted in her faith and carries out the actions of God every day. She makes everyone feel welcomed and valued."
"Mr. Klueg is a disciple of God who lives the Mercy values without condition. He cares about everyone, pushing and encouraging students to become the best they can be."