Mercy High School 44th Annual Live & Silent Auction
The Mercy High School 44th Annual Auction: Light the Way was a HUGE success. We are thrilled to announce we raised a record breaking $360,000! Principal's Pick brought in an astonishing $191,000, which will allow us to do all phases of the Campus Beautification Project. Phase I will be a landscaping and irrigation overhaul at our three entrances, Phase II will be a new LED Marquee Sign at the corner of 11 Mile/Middlebelt, and Phase III will be new lighting at all three entrances. We are overwhelmed by the generosity of our community and cannot wait to see this project come to life. Construction will begin this Summer.
Many THANKS to all who participated! We truly appreciate your support whether it was through attendance, donations, sponsorships, time, talent or prayers, you helped Light the Way for Mercy.
Thank you to our Auction Sponsors!
We are incredibly grateful to our Title Sponsor Varsity Lincoln and all of our outstanding event 
sponsors
.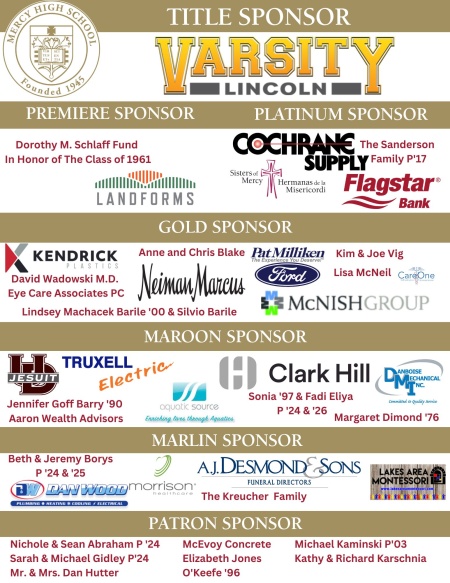 2023 HONORARY AUCTION CHAIRS
Thank you to these faithful supporters for serving as the 2023 Honorary Chairs.
Nancy & Jack Auffenberg P '05 & P '11
Rita Dilworth Lewry '77 & Thomas Lewry P '15
Emily & David Maroun P '23
Michelle Garms Monticello '84 & George Monticello
Sharon Sanderson P '17
2023 AUCTION COMMITTEE
Special thanks to the Auction Committee for their hard work behind the scenes.
Lindsey Machacek Barlie '00
Jerisha Bridges '96, P '26
Lolita Brocks P '24
Krista Miller Campau '93, P '23 & P '26
Jen Lorelli P '23 & P '25
Stephanie Dickow Surowiec '91, P'21 & P'26
2023 GIFT GATHERING PARTY HOSTS
Thank you to our gracious gift gathering party hosts for your hospitality and support.
Nancy & Jack Auffenberg P '05 & P '11
Sonia Jiddou Eliya '97 P '24 & '26
Allison & John Fishwick P '02 & '04
Kristen Kluska Heintz '95 & P '25
Liz & Sharad Jain P '21
Paula Jones P '16, '17 & '23
Nicole Lorraine P '24
Emily & David Maroun P '23
Dana Paluk P '24
Merrilee Nay P '24
Deliah Hermis Sarafa '94 & P '24
Kristina & Aaron Sikora P '20
Michele Uller Slankster '94 P '24
There's still time to
give
to Principal's Pick Campus Beautification Project! This year's Principal's Pick is all about campus curb appeal. Upgrading and beautifying all Mercy High School entrances is our priority. Working with low maintenance native plants and a variety of flowers, this year's Pick will bring vibrant colors and modern textures that make Mercy look as special outside, as it is inside. Support this initiative so the renovations can begin this summer. Learn more
here
and
make a gift today
!
AUCTION OFFICE
Auction proceeds provide tuition assistance, enhance educational programs, and fund capital improvements at Mercy High School. Contact J'aime Law '00 at 248-893-3582 or
auction@mhsmi.org
with any questions.
---
Check out last year's amazing Auction 2022 event: Celebrating 76 Years of Mercy!