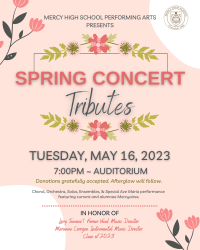 2023 Spring Concert "Tributes"
You're invited to the Mercy HS Spring Concert "Tributes" on Tuesday, May 16 at 7:00pm in the Mercy HS Rosemary Clooney Auditorium. We will commemorate and remember Mr. Larry Teevens†, Former Vocal Music Director, for the lasting impact he has had on Mercy High School. As a special tribute to Mr. Teevens† at the end of the Concert, we welcome all former Mercyaires to join our current Mercyaires on stage for the final blessing and traditional arrangement of "Ave Maria." We will also honor our dear Instrumental Music Director, Ms. Marianne Corrigan, who will be retiring at the end of this school year and send our Class of 2023 Seniors off with good wishes.
Please join us and bring your families and friends for an evening of Choral music, chamber orchestra, solos, small groups and the Mercyaires. Donations are gratefully appreciated and an Afterglow gathering will conclude the evening.