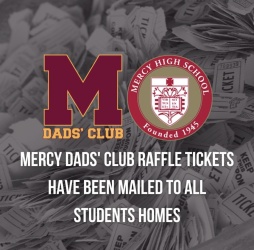 DADS' CLUB RAFFLE
The Dads' Club Annual Raffle tickets are available. We need your help through this raffle to generate funds for the Dads' Club & Mercy HS. What do we use these funds for…below are just a few of the items/events:
Parking Lot Painting BBQ – Food, snacks, water
Fund donation to the Daddy Daughter Dance
Funding the Endowment
New Fans for the weight room
Funding the Bonfires
Fund donation to the A-Ball
Fund donation for Basketball jerseys 
Mercy Golf Outing raffle gift basket
Mercy Auction bidding gift basket
New Christmas trees and decorations for the school
Tickets are $5 each or a book for $20. Ticket booklets were sent out to each family home. If you are in need of tickets to sell or buy, please email Mike Williams at coachexpress100@gmail.com.