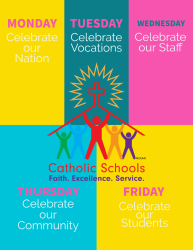 Catholic Schools Week 2023
Faith, Excellence, Service
Happy Catholic Schools Week! We are excited to celebrate with Mass, Tea with the Sisters of Mercy and Youth Mercy Associates, Senior Class Alumnae Sisterhood Luncheon, Pope Francis Center Service Project, Trivia Games, Treats, Spirit Wear Day, and more!
Lord Jesus, Son of God,
Thank you for the gift of Catholic education.
Day after day, week after week
you give us many opportunities to grow and learn.
Help us respond to the gift of faith so that we may be recognized as your disciples and glorify your name. Amen.
All week we will be the hands and feet of Christ by collecting items for the Pope Francis Center in Detroit. Bring donations of socks, gloves, hand warmers, or foot warmers to school. Donation bins will be available in the Reception Area, Lobby and Campus Ministry.  
Monday, January 30: Celebrating the Nation
Catholic schools make significant contributions to the nation, and play a role in preparing students to be good citizens. (NCEA)
Trivia game about the nation's Catholic Schools during Adviser Group.
Tuesday, January 31: Celebrating Vocations
By focusing on faith, knowledge and service, Catholic schools prepare children to use their God-given talents to the fullest later in life. (NCEA)
Parents/Guardians are invited to join us for all-school Mass at 10:15am. Following Mass, the Senior Class of 2023 will attend the Alumnae Luncheon and Members of Youth Mercy Associates will serve tea for the Sisters of Mercy.
Wednesday, February 1: Celebrating Staff
Teachers are the backbone of Catholic schools. On this day, schools honor teachers, as well as administrators and staff who support teachers in their important work, and thank the parents, grandparents, alumni, parishioners and school board members who provide volunteer service. (NCEA)
Lunch for faculty will be provided by Mercy Board of Trustees in appreciation of staff excellence.

Thursday, February 2: Celebrating Community

A central aspect of Catholic education is learning the importance of service to others. (NCEA)

We are invited to be the hands and feet of Christ through collecting handwarmers, gloves, footwarmers and socks for the Pope Francis Center.
Friday, February 3: Celebrating Students
Students may wear spirit wear from any Catholic school. Jeans, sweatpants, or uniform skirts may be worn. Last day for Pope Francis Center collection and some surprise fun.