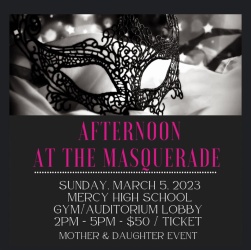 Afternoon at the Masquerade Hosted by Mercy Mothers' Club
Mercy Mothers' Club is pleased to announce an Afternoon at the Masquerade Mother & Daughter Event. We are also pleased to welcome Mercy Alumna inspirational speaker and Pediatric Dentist, Dr. Maegan Daughtery '02.
March 5, 2023
2:00pm - 5:00pm
Mercy High School Gym/Auditorium Lobby
$50/person
All Mothers, Daughters, Aunts, & Grandmothers are welcome!
It's getting very close now
Get your tickets right away.
Grab your mother or grandmother
For a very special day!
Leave no clue unnoticed
To help solve the mystery.
By the end of March 5th
You'll all go down in history!