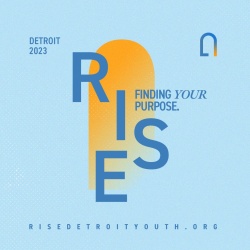 RISE DETROIT 2023
The Archdiocese of Detroit will once again be hosting RISE Detroit, a gathering of high school youth at Mercy High School. At RISE, high schoolers will unpack the theme, "Finding Your Purpose" based on Jer. 29:11: "For I know well the plans I have in mind for you… plans for your welfare and not for woe, so as to give you a future of hope."
Sunday, February 5, 2023
8:15am-7:15pm
Mercy High School
All 9-12th graders are invited to attend RISE! All attending teens must be accompanied by an adult chaperone (youth minister, high school campus minister, teacher, pastor, parent, etc.).
The speakers include Katie Prejean McGrady, Bishop Battersby, Fr. Adam Nowak, Fr. Craig Giera, and Sr. Felicity Madigan. Activities include keynotes, powerful praise and worship experiences, two breakout sessions, small group discussion, and Liturgy!
Standard Admission: $35 for all participants: teens and adults. Includes lunch and dinner!
Visit http://risedetroityouth.org to learn more and register.