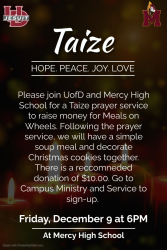 Taize Prayer with U of D Jesuit
Originating in the Christian community of Taize, France, Taize Prayer is a meditative and ecumenical form of prayer which calls us to dwell in Christ's presence.
This Friday, 12/9 at 6:00 pm, Mercy High School and University of Detroit Jesuit Campus Ministries invite you to a student-led Taize Prayer Service in the Mercy High School Chapel.
There will be a soup and bread meal to follow with a suggested donation of $10 benefitting Meals on Wheels. We will also have Christmas cookies to decorate afterwards! Mercy students and their families are invited to join us for this prayer service during the Advent season. Please reach out to Campus Minister Mary Kate Becker at mkbecker@mhsmi.org if you have any questions!
Special thank you goes out to the following Mercy student leaders who have been integral to the planning of this prayer service: Izzy Ahme, Maeve Casey, Alexis Conway, Mackenzie Conway, Grace de Klerk, Amylia Higgins, Amari Nwamba, Izzy Ahme, and Carrington Wash.