HOLIDAY SIP & SHOP
Please join us on December 8th from 6:00pm to 9:00pm for the Mercy Mother's Club Annual Holiday Sip & Shop event held at Mercy High School.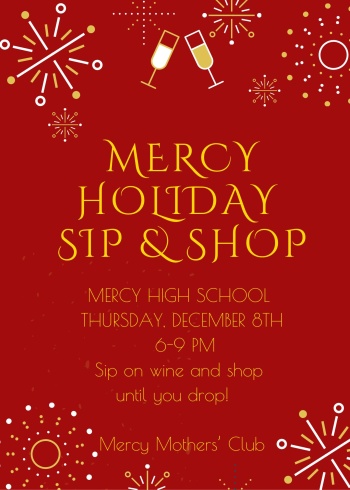 Thursday, December 8, 2022
6:00pm - 9:00pm
Mercy High School
Admission: $5
We plan to have the most festive Sip & Shop ever, where we will transform Mercy into a bustling holiday market. We have carefully curated a mix of new and old merchants at every price point, sure to please each guest.There will be jewelry, clothing boutiques, handbags, candles, home accessories, spa/wellness merchants, custom sweatshirts and accessories, gifts for your furry friends, doll clothing, Detroit themed gifts and holiday treats to name a few.
Our goal is for every attendee to have a fun night out, with light refreshments and wine, leaving the event with gifts checked off their list for friends, family, and themselves. We look forward to seeing you for a very merry evening at Mercy High School!
VENDOR LIST
A Queen Reborn - Women's jewelry, handbags and accessories
Ashley Gold Jewelry- Jewelry
Complexion Spa -spa, facials, accessories
Create My Rosary - Rosaries
Dover Ridge Candles Co - Soy candles, engraved glass, cutting boards
Dream Big Dream Body Dream Life - Skincare with minerals from the dead sea and vegan nutrition products
Faircloth Boutique - ladies boutique and accessories
Knifty Needles - Doll clothing and accessories
MadeByJacqueleneJacks - Handmade beaded and yarn jewelry, handbags and accessories
Mercury Wicks - premium soy-based candles, wax melts, room sprays
Wing and a Prayer - Bird Seed Wreaths
Ria's Beaded Blessings - Jewelry blessed with holy water from Fr. Solanus Casey Center
Rosemary Creations - Totes, blankets, quilted housewares, MSU/UofM
Scarletts - Fur and faux fur jackets, capes and accessories
Charmed Mayhem - Custom Sweatshirts, jewelry, hats
Treat the Dog - dog and cat gifts- bandanas
Studio 170 - Boutique- hostess gifts, clothing items- Boys Lie, faux designer
The Hand Weaver - handwoven Marlin Scarves and accessories
Bombshell Treat Bar - Winter Treats- Peppermint bark, candied pretzel sticks, etc
Majid Diamond Vault - fine jewelry; real gold, diamonds, natural
Poopsa Prints - Custom prints (tumblers, sweatshirts, teacher gifts)
Detroit Can Co. Detroit paint cans with detroit accessories, foods, etc- for MEN Soaps, bubble bars
2Stix 5 Stones - hand knit hats, accessories
The Detroit Chocolate Company chocolate candies
Creative ConSoul - Christmas Trees and Decorations
Mercy Mother's Club - Mercy Merch
Marlin Shop - Mercy HS Gear