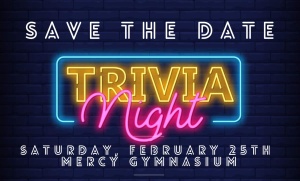 TRIVIA NIGHT FOR MERCY COMMUNITY
Mark your calendars and ask friends and family to join us for The Love of Trivia 80's Style event on Saturday, February 25 in the Mercy Gym. Fun for all and dressing up in your finest 80's is encouraged.
WE NEED YOUR HELP - Trivia Night Event Planning & Volunteers
Please join us for a Trivia Event planning meeting Wednesday, November 30 at 6:30pm in the Media Center. Kindly RSVP here to attend and indicate volunteer area of interest.