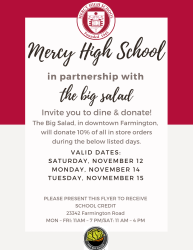 Dine & Donate
Mercy High School, in partnership with The Big Salad, invites you to Dine & Donate!
The Big Salad, in downtown Farmington, will donate 10% of all in store orders during Saturday, November 12, Monday, November 14 and Tuesday, November 15.
Please present this flyer to receive school credit.
Location: 23342 Farmington Road
Hours: MON – FRI: 11AM – 7 PM & SAT: 11 AM – 4 PM