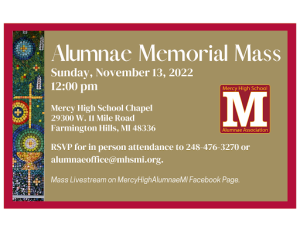 ALUMNAE MEMORIAL MASS
Reminder, we will commemorate the lives of Mercy's deceased alumnae, staff, family, friends and benefactors on Sunday, November 13, 2022 at 12:00pm in the Mercy High School Chapel.
Kindly RSVP to attend here or call 248-476-3270 by November 7th to attend in-person.
Contact the Alumnae Office at alumnaeoffice@mhsmi.org with the names of those family and friends you would like included in our prayers and book of remembrance. 
Mass livestream available on MercyHighAlumnaeMI Facebook Page.