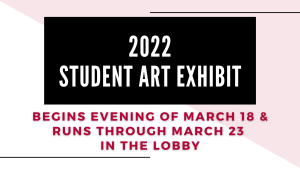 2022 Student Art Exhibit
Check out some amazing student artwork during the Spring Musical and Open House March 18 - March 23.
Stroll through the evenings of Friday, March 18, Saturday, March 19, the afternoon of Sunday, March 20, during the school days on Monday, March 21-Wednesday, March 23, and during Open House on Wednesday, March 23 6:00pm-8:00pm. Exhibit is in the Auditorium/Gymnasium entrance Lobby area.