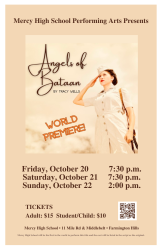 Fall Play "Angels of Bataan"
Mercy High School will be the first in the WORLD to perform this title, therefore the cast will be listed in the script as the original.
Friday, October 20 at 7:30pm
Saturday, October 21 at 7:30pm
Sunday, October 22 at 2:00pm
Adult tickets are $15; Student/Seniors/Children are $10
Based on the true story of American nurses held as Prisoners of War during WWII, this captivating story is one of perseverance and the spirit of sisterhood. It's 1941 on the tropical island of Luzon in the Philippines. Helen and Sally are among more than 100 U.S. Army nurses who have come to the islands looking for light duty, warm tropical breezes, and a little adventure. But paradise becomes a nightmare when, just hours after the attack on Pearl Harbor, their own island is rocked by death and destruction at the hands of enemy bombers. Now Helen, Sally, and the rest of the nurses must do everything they can to keep their charges, and themselves alive as they navigate nursing through a war zone in Manila, a tropical jungle in Bataan, and eventually as prisoners of war in the Santo Tomas Internment Camp. Can the nurses survive long enough to find freedom? Or will disease and starvation take the ultimate toll on the brave women known as the Angels of Bataan?