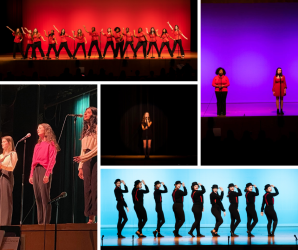 Performing Arts Fundraiser Update
On Friday, February 10, the Performing Arts Department hosted a cabaret fundraiser, Love is an Open Door, to help fund new LED lighting and an Epson High Brightness 20,000 Lumens Projector needed for the Frozen production Mercy will perform in March 2024. $36,029 was raised! We are well on our way to the goal of $85,000! If you want to support these needs, please donate online at mhsmi.org/frozen-fundraiser or contact the Advancement Office advancement@mhsmi.org.
Congratulations to all the student performers and crew members!
Arya Agulto, Izzy Ahme, Aidan Beaman, Felicity Bennett, Mackenzie Bennetts, Kathryn Byrne, Audrey Callaghan, Hannah Cronin, Alistair Crumpton, Lauren Dean, Raina Dearing, Nandini Desaraju, Jaxson Douglas, Jamesyn Douglas,Maggie Geraghty, Kate Guerin, Ollie Habel, Noah Habel, Julia Holt, Lucy Holt, Madeleine Hooper, Valentina Hutter, Erin Ikwechegh, Maddie Jackson, Sadie Johnson, Joelle Kassabri, Hannah Kennedy, Bethany Klueg, Bea Lapuz, Maddie Lemieux, Anika Lopes, Elise Lowry, Alexandra Marciniak, Marilyn Medley, Camilla Mendoza, Isabella Merucci, Rebecca Morgan, Olivia Naami, Chisomaga Nwoke, Avelina Parlove, Jaylen Pecora, Isa Portillo, Dorothy Propson, Joseph Propson, Ava Radze, Alexis Rounds, Maddie Schroeder, Abby Sobeck, Aurene Stoltz-Bango, Victoria Straub, Kierah Streather, Natalie Terrill,Emilee Theofanopoulos, Caroline Turco, Carrington Wash, Cadence Washington, Quinlan Welch, and Molly Whitney