2022 Trailblazer Alumna Award
We are proud to present the 2022 Trailblazer Award to Lyndsay Archer '15. This award is for amazing alumnae who have graduated within the year 2001-2017 and are to be commended for their incredible efforts to make a difference early in their career. 
LYNDSAY ARCHER '15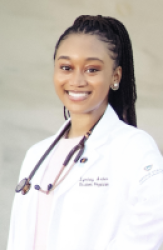 Lyndsay Archer is from Detroit, Michigan and is the author of the children's book, Fly, Doctor, Fly! The book tells the story of black and brown doctors and inspires young children to serve their communities. A portion of the book's proceeds go back to Roots Strong so it can continue and expand its community outreach both locally and globally. Lyndsay's educational and literacy initiatives in Metro Detroit also creates opportunities to develop important life skills. These initiatives promote Human Dignity because literacy is essential to developing a strong sense of self, well-being, and citizenship. A literate generation will benefit the entire community. "Lyndsay has opened literacy and educational opportunities that did not previously exist for the youth in underserved and marginalized communities locally and globally. This is the very definition of a trailblazer." Valerie Colbert- Osamuede '80
She is also founder and president of Roots Strong, a 501c3 nonprofit organization dedicated to improving access to educational and developmental resources for youth both locally and globally. Through Roots Strong, she has worked in disaster relief, community outreach, literacy improvement, and has organized the building of libraries and a computer lab for students in Glengoffe, Jamaica. In 2019, she received her Bachelor's degree in African-American Studies on the Pre-Medicine track from Wayne State University in Detroit, Michigan. She has an MBA in Healthcare Administration and is currently a first-year medical student at Wayne State University School of Medicine. In April 2021, she was featured in the Detroit Free Press for her community work in improving literacy for youth through both her nonprofit organization and children's book. In June of the same year, she was recognized as a 2021 Caribbean American Changemaker by the Institute of Caribbean Studies in Washington, D.C. Her ultimate goal is to serve her community as both a physician and community servant dedicated to serving underserved and marginalized youth.
---
Trailblazer Alumna Recipients