2023 Trailblazer Alumna Award
The Mercy High School Alumnae Association is proud to announce the recipients of the 2023 Trailblazer Alumna Award, Emily Fishwick '04 and Erin Keith '09. This award is for amazing alumnae who have graduated within the years 2002-2018 and are to be commended for their incredible efforts to make a difference early in their career.
ERIN KEITH '09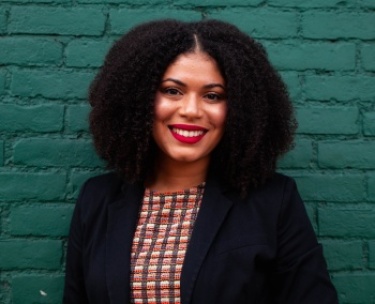 Erin Keith '09 graduated summa cum laude from Howard University in 2013 with her B.A. in Political Science and from Georgetown Law with her J.D. in 2016 and LL.M. in 2018.
Erin currently serves as Managing Policy Counsel for the Detroit Justice Center (DJC). In this capacity, she leads the organization's policy strategy and analyzes legislation to remove legal barriers in the criminal legal system. Erin has worked on critical issues, including cash bail reform, eliminating excessive fines and fees, driver's license reinstatement and traffic law reform, police accountability, and divesting from carceral structures to fund community reinvestment.
Erin first joined DJC during its founding year, 2018, as its Youth Empowerment Attorney. In this role, she worked to provide legal services with an emphasis on those under 25 and leading the development of DJC's Know Your Rights workshops and other outreach programming for local students
Erin then shifted roles to serve as a Staff Attorney in the Legal Services and Advocacy Practice (LSAP) at DJC. In this role, she focused on criminal legal system reform through a racial equity lens, by providing direct representation to indigent and/or formerly incarcerated clients. Erin was one of three attorneys to assist with DJC's pilot "in-reach program," traveling to Michigan Prisons and meeting with incarcerated individuals to help create legal re-entry plans before they paroled into the community, with the aim of reducing recidivism.
Observing countless inequities in Michigan's traffic courts, Erin spearheaded the creation of and co-authored the "Highway Robbery Report," a 60-page white paper on transit apartheid, racialized policing and wealth extraction through municipal traffic courts. In addition to representing clients in hundreds of misdemeanor matters, resulting in a substantial reduction or complete waiver of fines and fees for each individual and the prevention of subsequent jail time in each case, Erin also aided returning citizen clients in child support debt and child custody proceedings, resulting in forgiveness of substantial arrearages (about $100,000, incurred during their respective incarceration periods), and restored custodial rights. Additionally, Erin served as co-counsel on a national COVID lawsuit aimed at improving sanitary conditions at the Wayne County Jail, expediting the pretrial release of non-violent offenders, ensuring access to masks, showers and adequate cleaning materials, and preventing the spread of the virus among those who were detained.
Before joining the Detroit Justice Center team, Erin served as the Juvenile Defense and Policy Fellow for Georgetown's Juvenile Justice Initiative. Erin has also served as a judicial intern for a juvenile judge in D.C. Superior Court and as a Summer Associate for Miller, Canfield, Paddock, and Stone, P.L.C. Erin's other past internships include working at the NAACP Legal Defense Fund, the U.S. Department of Justice in the Public Integrity Section, the U.S. Department of State, and the Public Defender Service for the District of Columbia, in the Juvenile Services Program.
In 2016, Erin published two academic articles: "She Could Have Been Me: A Tribute to Renisha McBride," in the Harvard Journal of African American Public Policy, and "Wronged Without Recourse: Examining Shortcomings of Compensation Statutes for Black Exonerees," in the Georgetown Journal of Law and Modern Critical Race Perspectives. Erin has gone on to share her political commentary and/or written editorials on various outlets, including CNN, NPR, USA Today, WDET, and the Detroit Free Press.
She is a member of the State Bar of Michigan and the District of Columbia Bar.