DEI Talk for K-12 Teachers - Moving from Talk to Sustainable Action
REGISTER TO ATTEND
Registration is now closed.  Please contact Traci Smith at tsmith@mhsmi.org or 248-893-3549 if you would like to attend.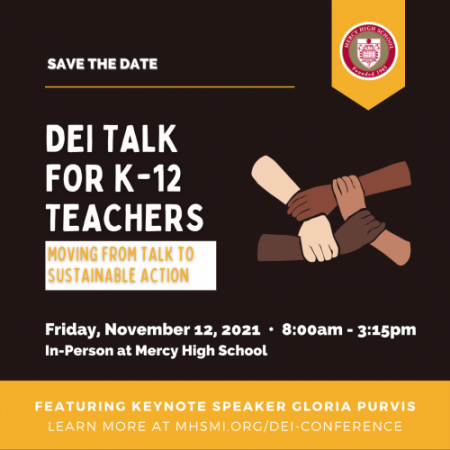 Friday, November 12, 2021
8:00am - 3:15pm
Mercy High School
DEI Talk at Mercy HS is a one-day, in-person summit of talks, activities, and workshops to inform and empower educators to create and sustain anti-racist, inclusive, and just learning environments for all students, grounded in the the Catholic social teachings.
EVENT DETAILS & SCHEDULE
SPONSORSHIP OPPORTUNITIES
Face mask required for all while inside the building.
---
Event Contact
248-893-3549