January 23, 2023
Mercy High School Earns Dual AP Computer Science Female Diversity Award
Recognized for Closing the Gender Gap in Computer Science A and Computer Science Principles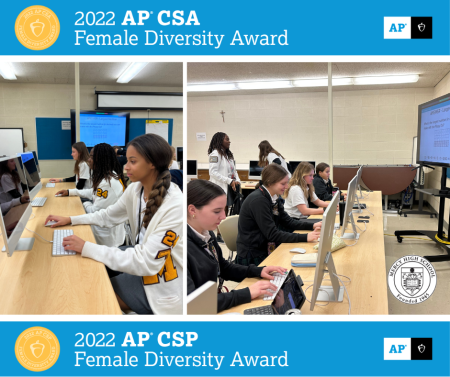 Farmington Hills, MI – Mercy High School has earned the College Board AP® Computer Science Female Diversity Award for achieving high female representation in AP Computer Science A (CSA) and AP Computer Science Principles (CSP). Schools honored with the AP Computer Science Female Diversity Award have expanded girls' access in AP computer science courses.
More than 1,100 institutions achieved either 50% or higher female representation in AP computer science courses or a percentage of the female computer science exam takers meeting or exceeding that of the school's female population during the 2021-22 school year. In 2022, Mercy High School was one of only 64 to be recognized for closing the gender gap in both AP computer science courses. Mercy is the only Catholic high school and all-girls high school in Michigan to receive this designation.
"We're thrilled to congratulate our AP computer science students and their teacher Christopher Janusch," said Patricia Sattler, Principal. "We're honored that Mercy earned this distinction from the College Board which reflects our commitment to educating students in the area of computer science. We look forward to seeing these young women pursue and achieve success in computer science education and careers."
Mercy students learn to design and implement computer programs that solve problems relevant to today's society. The AP Computer Science courses cultivate their understanding of coding through analyzing, writing, testing, and developing algorithms to process data, discovering digital privacy and security; and analyzing solutions.
"Computer science is the source code of our economy and so much of our daily lives," said Trevor Packer, College Board Head of the AP Program. "In the five years since we began the AP Computer Science Female Diversity Award, it's been heartening to see schools like Mercy welcome so many more young women into this vital field."
The first year of AP Computer Science Principles in 2016-17 attracted more students than any other AP course debut, and participation is on the rise. In 2022,134,651 students took the AP CSP Exam—more than triple the number of exam takers in the course's first year. In 2022, 44,811 women took the AP CSP Exam, more than three times the number who tested in 2017. AP Computer Science A, which first debuted in 1988, continues to grow. In 2022, 77,753 students took the AP CSA exam, including 19,786 women – a 39% increase in female participation since 2017.
Providing female students with access to computer science courses is necessary to ensuring gender parity in the industry's high-paying jobs and to driving innovation, creativity, and representation. The median annual wage for computer and information technology occupations was $97,430 in May 2021. However, women represent just 24% of the five million people in computing occupations.
According to a Google study, 54% of female computer science majors took AP CSA in high school. College Board research about AP CSP also finds AP CSP students are nearly twice as likely to enroll in AP CSA, and that for most students, AP CSP serves as a stepping stone to other advanced AP STEM coursework.
These findings highlight the importance of schools nationwide achieving gender parity in AP computer science classrooms. Overall, female students remain underrepresented in our high school computer science classes, accounting for just 33% of AP Computer Science Principles participants and 25% of AP Computer Science A participants. Currently,  51% of high schools teach foundational computer science. The 1,105 schools that receive this year's AP Computer Science Female Diversity Award serve as inspirations and models for all U.S. high schools.
###
About Mercy High School Michigan
Mercy High School is a sponsored ministry of the Institute of the Sisters of Mercy of the Americas and is a member of Mercy Education. Mercy High School, a Catholic college preparatory school immersed in the tradition of the Sisters of Mercy, educates and inspires young women of diverse backgrounds to lead and serve with compassion. The student body is made up of young women from over 60 metropolitan Detroit communities. The common thread among staff, students and parents is a commitment to academic excellence and the integration of the Mercy Core Values of Compelled By Mercy; Educational Courage; Inspired By Faith; Principled Leadership; and A Voice For Dignity and Respect into daily life.