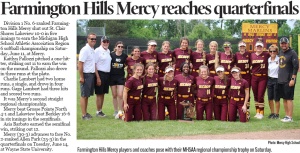 Farmington Hills Mercy reaches quarterfinals
Division 1 No. 6-ranked Farmington Hills Mercy shut out St. Clair Shores Lakeview 10- in five innings to earn the Michigan High School Athletic Association Region 6 softball championship on Saturday, June 11 at Mercy.
Kaitlyn Pallozzi pitched a one-hitter striking out 11 to earn the win on the mound. Pallozzi also drove in three runs at the plate.
Charlie Lambert had two home runs, a single and drove in four runs. Gage Lamber had three hits and scored two runs.
It was Mercy's second straight regional championship.
Mercy beat Grosse Pointe North 4-1 and Lakeview beat Berkley 16-6 in six innings in the semifinals.
Mercy (30-3) advances to face No. 2-ranked Allen Park (25-3) in the quarterfinals on Tuesday, June 14, at Wayne State University