MAROON & GOLD RAFFLE 2021
PAY IT FORWARD FAMILY FUNDRAISER

It's that time of the year again...Mercy's Annual Maroon & Gold Raffle (formerly called the Sweepstakes Drive)!! Mercy families will be selling tickets during the annual drive to benefit the General Fund at Mercy, which supports the tuition gap, curriculum enhancements, facility upgrades & technology updates. PAY IT FORWARD, MERCY!
Drawing: Friday, May 7, 2021
1st Prize: $10,000
2nd Prize: $5,000
3rd Prize: $1,000
4th Prize: $500
20 Additional Prizes of $100 each
Ticket Price: $5.00 per ticket
Winners need not be present.
Raffle License No. R-60132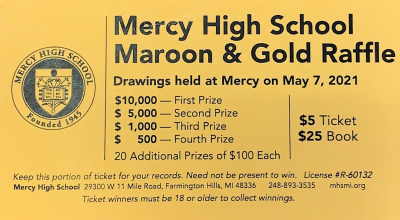 To purchase tickets:
You may purchase tickets from a current Mercy family directly.
You may purchase tickets by *phone at 248-893-3535.
You may *request tickets online here.
*Ticket stubs will be submitted in your name, based on the number you purchase. For example, if you purchase 5 tickets, 5 stubs will be entered into the drawing in your name.
To make a tax deductible donation instead of purchasing raffle tickets:
THANK YOU FOR YOUR SUPPORT!
Special Events Office