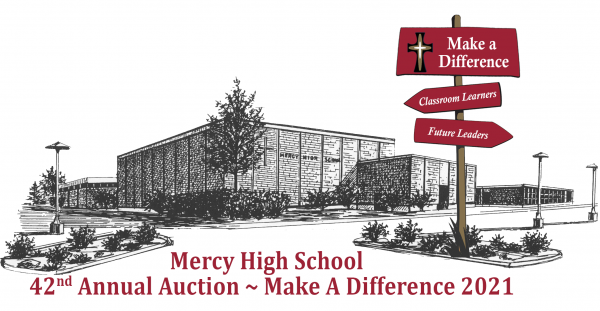 Benefiting Classroom Learners and Future Leaders of Mercy High School 
Thank you to all who participated in this year's 42nd Annual Auction. We hope you enjoyed the evening and we are so appreciative of your generous support! 
If you were unable to join us for the event, we invite you to view our Impact Video to hear from students, alumnae and parents about educating classroom learners and future leaders.
Principal's Pick
Students and Teachers have spoken - Air Conditioning is on the way! This year's Live Paddle Raise raised over $86,000 to support adding air conditioning in classrooms in the south hall this summer! This project will ensure a comfortable learning environment for students and teachers and ensure that Mercy remains competitive in the educational market.  THANK YOU!
Raffle Winners
Thank you to everyone who purchased a raffle ticket! Winners were announced on the Live Broadcast and have been contacted for item pick up. 
Wheelbarrow of Beer- Dan and Jennifer Logan
Diamond Earrings- Tara Thweny
Shopping Spree- Christina Rose
Wine Grand Prize- Elizabeth Russell
Wine Additional Winners- Anne & Michael Korte, Elizabeth & Sharad Jain, Paul Henry, Anne & Stephen Nemer, Katy & Ken Rose, Suzanne Kaperzinski
Principal's Pick Diamond Earrings Drawing- Kathryn Piotrowski
Event Sponsors
Thank you to all of the companies and families who have become Event Sponsors!
Partner Sponsor
Saint Joseph Mercy Health System
Premiere Sponsor
Connie & Brian Demkowicz
Platinum Sponsors
The McDonald Family
Christopher & Dianne May
The Sanderson Family
Dr. James Delaney DDS - Pediatric Dental
730 Eddy Studios
Gold Sponsors
McLaren Oakland
The Wilker Family
RHD Tire - Michelin
Care One, Inc.
Golf Tech Custom Club & Repair Center
Anne & Chris Blake
The Collins Family
Varsity Lincoln
The Detroit Chocolate Company
Joe & Kim Vig
Cheryl Delaney Kreger '66 & John Kreger
Lynn Gayney Pheney '61 & Dennis Pheney
Leigh Chandler & Lane Coleman
The McNish Group, Inc.
The Borbely Family
RHD Tire
Matthew & Sahera Housey
Mercy Education System of the Americas
The McNeil Family
CFO Group - Services for Growing & Entrepreneurial Companies
Jennifer Goff Barry '90 & Family
Marlin Sponsors
Brad & Jill Fush
Kathleen Dul Aznavorian '64
Sue & John Glover
EPC
Bill & Nicole Wildern
Katy Kelly Rose '85 & Ken Rose
Wallace Scones
Ronald & Maureen Korte
Preferred Painters INC
The Bouras Family
A.J. Desmond & Sons Funeral Directors
Michael & Sarah Gidley
Sellers Buick GMC
Sportiva
Livonia Italian Bakery & Cafe
Daniel & Josie Hutter
Patron Sponsors
Jim Acho, CMDA Law
TDA Insurance & Financial, LLC- The Diederich Family
Naomi Khalil
Chris McLogan Associate Broker-Max Broock Realtors
Patricia Thull O'Brien '70
Heeney-Sundquist Funeral Home
Saxton's Landscaping & Outdoor Services
Saxton's Landscaping & Outdoor Services Inc. Plant Shop
Mayor Mykale (Kelly) Garrett
The Fromm Family
Brian & Missy Kreucher
Mary Stock Wallace '81
Lashes by Ragaad
---
Honorary Chairs
Leigh Chandler & Lane Coleman P'20 P'22
Lorri & James Delaney P'21
Sharad & Elizabeth Jain P'21
Rita Dilworth Lewry '77 & Tom Lewry P'15
Auction Committee
Katie Seefelt Baetz '90, Christine Bouras, Stephanie Collins, Lorri Delaney, Anne Korte, Dianne May, Nicole O'Dea, & Katy Kelly Rose '85
Contact Gina Gray in the Special Events Office at 248-893-3535 or
auction@mhsmi.org
with any questions.
---
Check out last year's event: Impact and Inspire 2020