Once a Mercy Girl, Always a Mercy Girl
If you graduated from Mercy, you are automatically a member of the Mercy High School Alumnae Association – 16,000 alumnae strong! No matter where your interests lie, we invite you home to Mercy.
SCHEDULE OF EVENTS 2023-2024
Saturday, September 30, 2023
Honoring Milestone Classes:1948, 1953, 1958, 1963, 1968, 1973, 1978, 1983, 1988, 1993, 1998, 2003, 2008, 2013, 2018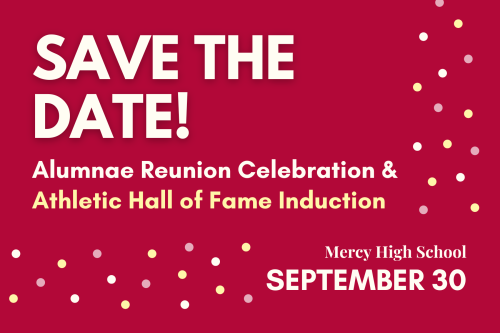 Alumnae Memorial Mass
November 2023
12:00pm
Mercy High School Auditorium
We will commemorate the lives of Mercy's deceased alumnae, staff, family, friends and benefactors.
Senior Class of 2024 & Alumnae Luncheon
An intimate networking experience for alumnae to personally meet and spend quality time with the Class of 2023.
January 2024
11:00am-2:00pm
Tea for Tuition
April 2024
Springtime Tea to benefit Tuition Assistance at Mercy.
Day of Week Varies ~ 6:30 pm – 8:00 pm
Join the conversation on a wide range of genres.
The Alumnae Board plans and executes events for alumnae and the Mercy community and raises funds for student scholarships on behalf of the Alumnae Association. Meetings are held once a month. We invite all alumnae to attend and participate.
---
Contact
Director of Alumnae Relations