Once a Mercy Girl, Always a Mercy Girl
If you graduated from Mercy, you are automatically a member of the Mercy High School Alumnae Association – 16,000 alumnae strong! No matter where your interests lie, we invite you home to Mercy.
SCHEDULE OF EVENTS 2022-2023
Meet & Greet with the Alumnae Board
You are invited to join us for a fun get together with the Alumnae Board to learn about upcoming events! Snacks and drinks provided.
Friday, September 9, 2022
6:00pm
Milestone Reunion
We invite Milestone Classes to attend 77 Years of Women Who Make a Difference on Saturday, October 1, 2022. We will begin with a milestone class luncheon at 1:00pm in the Media Center followed by Mass at 4:00pm. New this year! Alumnae are welcome to bring their daughters (ages 5-13) to attend the reunion as their guests. 
Reunion attendees will be able to participate in student-led tours featuring newly renovated Athletic Locker, MZone, Shopping in the Marlin shop (formerly Marlin cart) and see the Catherine's Tea Parlor. Classes will be able to mix and mingle in designated spaces to take photos and reminisce. 
Welcoming the Classes of:
1947, 1952, 1957, 1962, 1967, 1972, 1977, 1982, 1987, 1992, 1997, 2002, 2007, 2012, 2017
Alumnae Memorial Mass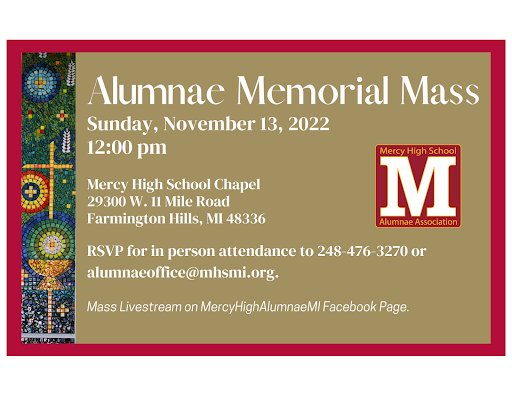 Sunday, November 13, 2022
12:00pm
Mercy High School Auditorium
We will commemorate the lives of Mercy's deceased alumnae, staff, family, friends and benefactors. Kindly 
RSVP to attend here
 or call 248-476-3270 by November 7th to attend in-person. Contact the Alumnae Office at 
alumnaeoffice@mhsmi.org
 with the names of those family and friends you would like included in our prayers and book of remembrance.
Senior Class of 2023 & Alumnae Christmas Party
Friday, December 2, 2022
6:00pm
An intimate networking experience for alumnae to personally meet and spend quality time with the Class of 2023.
Tuesday, January 31, 2023
11:00am-2:00pm
Farmington Hills Manor
Tea for Tuition 2023
Springtime Tea to benefit Tuition Assistance at Mercy.
All alumnae are invited to join the next Book Club to discuss "French Braid" by Anne Tyler on Tuesday, October 18, 2022 at 6:30pm in the Mercy High School Catherine McAuley Tea Parlor or via Zoom. RSVP to
tmrussette@att.net
. 
Day of Week Varies ~ 6:30 pm – 8:00 pm
Join the conversation on a wide range of genres.
2023 Milestone Reunion
Save the date for the 2023 Milestone Reunion to be held the weekend of September 29 - September 30 honoring the classes of 1948, 1953, 1958, 1963, 1968, 1973, 1978, 1983, 1988, 1993, 1998, 2003, 2008, 2013, 2018.
The Alumnae Board plans and executes events for alumnae and the Mercy community and raises funds for student scholarships on behalf of the Alumnae Association. Meetings are held once a month. We invite all alumnae to attend and participate.
Alumnae Office
Laura Merritt Everett '98, Director of Alumnae Relations
Contact the Mercy Alumnae Office at 248-476-3270 or alumnaeoffice@mhsmi.org for more information.
---