2023 President's Alumna Award for Transformational Leadership
Mercy High School President was pleased to award former Principal Sr. Nancy Thompson '50 the President's Award for Transformational Leadership at the 19th Annual Tea for Tuition event held April 30, 2023.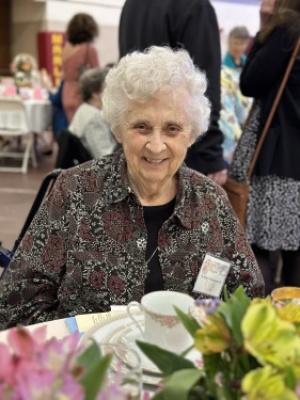 Sr. Nancy's lifetime has been an exemplar of service. Her style is quiet, supportive and giving credit to others rather than herself. She has served Mercy High School for decades and been a sister of Mercy for almost 75 years. 
Her history with Mercy High School began when she attended and graduated in 1950. She was a leader and loved basketball. Upon graduation, she entered the Sisters of Mercy. She has served in many teaching, administrative and Community Leadership roles since that time. 
At Mercy High School, Sr. Nancy served as Assistant Principal to Sr. Camille Kelly and then as the Principal. Participation of all stakeholders was key and Sr. Nancy embraced it. Later she served as President for a year as the school transitioned to the President/ Principal model. 
She was one of the founders of Mercy Secondary Education System, which was the first attempt to unite and support all the Mercy Schools of the Americas as well as provide training and conferences. She held a leadership position in the Detroit Province and later when the West Midwest Community formed she served on the Education Council which governed our school and others from Detroit to California. 
Upon retirement, Sister Nancy continued in the role of Special Projects Coordinator, and worked with Sr. Regina Marie Doelker '56 and Dr. Cheryl Delaney Kreger '66. She has provided advice and counsel and worked as the school's historian and archivist. Mercy High School has been blessed many times over with her care and dedication. Given this impressive legacy, we are happy to establish a new scholarship in Sr. Nancy's name to provide tuition assistance to the next generation of Mercy students in her honor.