2023 Distinguished Alumna Award
The Mercy High School Alumnae Association is pleased to announce the recipient of the 2023 Distinguished Alumna Award, Fanchon Stinger '89. The Distinguished Alumna Award honors women who make a difference and exemplify the Mercy values of Human Dignity, Mercy, Justice, Service and Option for the Poor. Congratulations, Fanchon!
FANCHON STINGER '89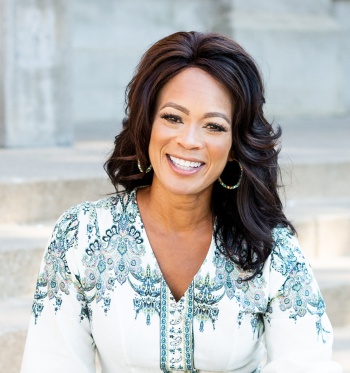 Fanchon Stinger '89 is the Emmy winning co-host of PBR Now and a contributor to Western Sports Roundup and NFR Tailgate airing on Cowboy Channel and PlutoTV. Fanchon continues to speak nationally, host events, and create positive, inspirational media content through her production company FLS Media & Strategic Solutions. Fanchon retired from broadcast news in May 2022  after nearly 30 years, most recently serving as evening news anchor for Fox 59 News 5pm, 6pm, 7pm and 10 p.m. in Indianapolis as well as Executive Producer, anchor/reporter of Community Hero series highlighting people who make a difference in central Indiana (2010-2020) and Actress, God's Not Dead: A Light In Darkness (2019).
In 2020, Stinger became a bull owner in PBR (Professional Bull Riders), partnering with 12-time Stock Contractor of the Year Chad Berger and Daniel & Melissa Brunner in the ownership of the bucking bulls "Stinger" and "Lill Hott," who compete on the PBR Tour. In 2021, she co-founded and launched the charitable initiative Grit & Grace Nation, inspiring middle and high school girls to lead with courage through exposure to successful female mentors and western values of faith, family, and freedom. Stinger shares her journey, provides mentorship programs and scholarship opportunities nationwide plus appears at PBR events as part of Grit & Grace Nation's alliance with PBR to honor deserving girls.  
Stinger has received numerous awards and recognition as a professional journalist, host and speaker. She has won 15 Emmy  awards from the National Academy of Television Arts and Sciences, most recently Best Series Societal Concerns 2016; Best Evening Newscast 2015; plus, 12 others in various categories, including Best Anchor and Best Reporter. The Associated Press Michigan named Stinger Best Reporter in 2000. She also was the Society of Professional Journalists finalist for Young Journalist of the Year 2002; Best Spot News Reporting for her coverage of the attack on the World Trade Center in New York City; and Best General Reporting for her investigative report busting a fake doctor. Other awards include, the United States Department  of Health and Human Services awarded Stinger its highest honor, the Inspector General's Integrity Award; The 2022 S. Henry  Bundles, Jr. Award for service to the Center for Leadership Development; The 2016 Service to Mankind Awards District and Club from Sertoma Club; The 2018 & 2015 Inspire Award for Mentor of the Year from College Mentors for Kids; The 2008 Flame of Inspiration Award from Compuware for leadership in the Metro-Detroit Community. 
In addition to serving as co-founder and CEO of Grit & Grace Nation, Stinger currently serves as Board Member, Ascension St  Vincent Foundation (present), Board Member & Conference Host, Truth at Work Int'l Christian Leadership Conference (2014- Present); Board Member, Life Centers-Indiana (2017-2022 ), Host, Legends of the Hardwood Breakfast for Athletes in Action (2015 NCAA Basketball tournament), Board Member, Indiana Coalition to End Sexual Assault; Board Member Peace Learning Center-Indianapolis,(2010-2012); Board Member, Focus2020 Indiana Business Leadership Initiative (2013-2014); Member, Midwest Outreach Team for CWAM Super Service Challenge (2013); Board Co-Chair, Women Empowering Women Indianapolis, IN; Chair, Host of "Girls Matter"(2005-2010), a weekend conference for more than 1,000 girls ages 7-17 and their parents building leadership and self-esteem. Stinger served on the Board for Vista Maria (2002-2008), Michigan's largest treatment center for girls who suffer from severe abuse and emotional trauma. She served as Chairwoman for Vista Maria's  Annual Celebrating Women Event (7 years). She has also served as Chairwoman: Committee of 100 for The Black United Fund of Michigan. Jackets for Jobs, The National Black Minority Business Assoc., The Muscular Dystrophy Association, the National Association of Black Journalists, Michigan Humane Society, and The Martin Luther King Assoc. have also honored her over the years. 
Stinger maintains strong ties to the community and a deep commitment to enrich the lives of young people, young professionals, and women through motivational speaking and seminars, through her foundation Grit & Grace Nation, and involvement with the following organizations: FFA, Center for Leadership Development, Girls Night In International, Gleaners, Mid-West Food Back,  St. Vincent Hospitals just to name a few.  
Stinger was a FOX 2 News anchor, reporter, investigative reporter, and executive producer of "Front and Center with Fanchon  Stinger," for 11 years in Detroit, Michigan. 
Born and raised in Detroit, Stinger graduated from University of Michigan with honors, completing a dual Bachelor's degree in English and communications. She enjoys reading, walking her dog Arie, traveling the world, attending PBR events, and experiencing other cultures. Stinger is actively involved in her church community in Fort Worth, Texas.