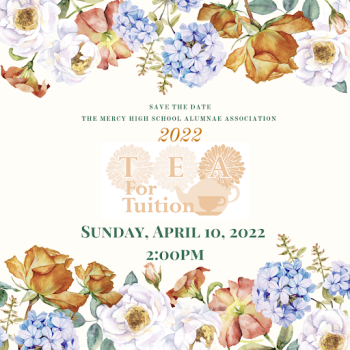 After two years of virtual events, the 18th annual Tea for Tuition took place in person on April 10. Distinguished Alumnae Awards were posthumously presented to the families of Maria Petrella '77 and Chris-Tia Donaldson '96. Lindsey Archer '15 was presented the Trailblazer Alumna Award. To date, over $32,000 has been raised for Tuition Assistance.
Each year, the Alumnae Association gathers for a springtime tea to ensure bright futures for Mercy girls by raising money for tuition assistance. The Alumnae Association awards approximately $40,000 in funds to support students in need of financial assistance. It is our mission to pay a Mercy education forward and continue to educate Women Who Make a Difference. Decorations were festive and joy filled the room. Thank you for all you supported this day!
Couldn't make the Tea? Be an AbsenTea Donor!
Support tuition assistance with an AbsenTea donation.
Make check payable to "Mercy High School" and note AbsenTea in the memo line. Send to: Mercy High School Alumnae Office, 29300 W 11 Mile Rd, Farmington Hills, MI 48336-1409.
For any questions or further information, contact the Alumnae Office at alumnaeoffice@mhsmi.org or 248-476-3270. Read about the 2021 Virtual Tea for Tuition here.
---
"No work of charity can be more productive of good to society than the careful instruction of women." ~ The Venerable Catherine McAuley, Founder of the Sisters of Mercy
Many thanks to our valued partner sponsor St. Joseph Mercy Health System.