School & Student Successes
Honor Roll Semester 2 2017-2018
---
HONORS CONVOCATION 2018
The entire Mercy school community convened on May 24th for the annual HONORS CONVOCATION to recognize all the stellar students of 2018. From math and science, service and scholarships, Newsprint and Lore yearbook, all were honored for their awesome achievements and a standing ovation to the seniors for a fabulous four years! Click here for photo album.
Sr. Emily George Award - Catie Coffman
Principal's Leadership Award - Mary Doman
Garn Griffin Athletics Award - Katie Minnich and Maddie Rennie
Valedictorian - Anastasia Warner
Salutatorian - Abigail Hembree
---
CONGRATULATIONS 2018 Teacher of the Year Ms. Lisa Robinet!
Students shared that they look forward to classes each day because they feel uniquely valued. Students feel safe and welcome from the minute they step into her classroom, where each voice is heard. Advisees say that Ms. Robinet finds a way to make all students come together in their group to form a family. Co-workers list the many responsibilities and contributions this teacher gives to the Mercy community. Ms. Robinet is described as incredibly dedicated, humorous, loving, real and uniquely spunky!  
---
Congratulations to Hannah Blakey and Megan Hutter who received their Certificate of Appointment to the United States Military Academy West Point. We are so proud of your hard work and dedication!
Congratulations, Mercy Forensics!
Over Memorial Day weekend, because of their excellence at the local level, 11 Mercy girls competed at the Grand National Tournament of the National Catholic Forensics League in Washington DC. These Mercy girls were amongst 66 fellow diocese, 558 schools, and 2,751 competitors. Each and every girl performed beautifully, they are: 
Mercy had an exceptionally great weekend because of the fantastic success of three of our competitors. 2 students broke to the octofinal round making them top 48 in the nation. They are, Abbey Hembree in Original Oratory, and Maggie Ewald in Dramatic Performance. One student, Cara Forfinski, broke to the quarterfinal round in Dramatic Performance making her top 24 in the nation. This is an extraordinary accomplishment for all of these students and we are so incredibly proud!
THANK YOU to Virginia Minolli '82 and Ray Okonski for presenting scholarships to outstanding Mercy seniors. Ana Warner and Katie Minnich received The Frank Minolli Scholarship which is given to a senior who is interested in STEM. Mr. Okonski awarded scholarships to Rebecca Heaman, Lauren Hunter, Megan Hutter, Supreet Nirman, Lexi Thomas and Ana Warner, honorees in the Hometown Life 2018 Academic Top 6 of Oakland County for their outstanding academic performance and leadership achievements.
Joelle Joyner '18 won two years in a row at the Congressional Art Competition - 2nd place in 2017 for a pencil portrait, 3rd place this year 2018 for a digital drawing.
---
Val Sal 2018
We are proud to announce the Class of 2018 Valedictorian is Anastasia Warner and Salutatorian is Abigail Hembree. CONGRATULATIONS to all the Val Sal finalists Rebecca Heaman; Lauren Hunter; Megan Hutter; Lauren Isaacson; Caroline McLaren; Katherine Minnich; Supreet Nirman and Alexandra Thomas. This distinction considers not only academic record but also leadership, service and extracurricular involvement. God bless the Class of 2018!
---
Congratulations to Danielle McClain '18 who won the Optimist International Oratorical Contest for the State of Michigan and will be traveling to St. Louis to compete at the World Championships later this month.
---
Art & Writing Award Winners - Several of our students placed in the 2018 Kappy Family Anne Frank Art and Writing Competition! This competition is to empower and inspire today's students to lead our world to a better future. The theme was The Power of Hope, and students were asked to reflect on the lessons of the Holocaust and to create a written or artistic response to the following quotation from Anne Frank's diary, "Where there's hope, there's life. It fills us with fresh courage and make us strong again."
Congratulations Morgan Lowe: honorable mention (photography); Jessica Dillon: Second Place (non-fiction); Brooklynn Bates: honorable mention (poetry).
State Solo & Ensemble - Congratulations to The Mercyaires for another First Division rating at State Solo & Ensemble Festival. All soloists who performed at State also earned First Division ratings:
Yana Ebbing; Nathalie Gijsbers; Kylie Kreucher; Alana O'Donnell; Anna Sauer; Cayla Stus; Madeline Surowiec.
In addition, special recognition to Kylie Kreucher for earning a perfect score on her solo and to 
Alana O'Donnell for being selected as one of 12 soloists in the state of Michigan to perform at the Michigan Youth Arts Festival in Kalamazoo.
State Choral Festival -  Advanced Glee and The Mercyaires combined to perform together at State Choral Festival and they earned a First Division rating, with excellent feedback from the adjudicators.
---
Heart of Mercy
We rejoice for the 2018 Heart of Mercy Award recipients Annie Acho Tartoni '18 and Math Teacher Mrs. Vicky Kowalski who live out the values of Human Dignity, Mercy, Justice, Service and Option for the Poor. Thank you for being faithful and compassionate people of God who make a difference to everyone in our Mercy family!
Here are just a few comments of what students had to say about these inspirational school leaders: "Annie remembers people in prayer and her concern is genuine. Love and mercy pour out of her. She has the gift of presence. She has a heart that seeks others and a smile to greet all those she meets." Mrs. Kowalski changed my life. She always takes time to help. Her patience and love for her students gives them confidence. She looks for students who need help in math, making friends, or participating in extracurricular events at Mercy." 
---
"We Are Mercy High" Single by Cayla Stus '20 - Cayla Stus '20 composed an original song, "We Are Mercy High" and it is now available on iTunes, Apple Music, and Spotify! She hopes Mercy students and families have a chance to listen and enjoy: https://itunes.apple.com/us/album/we-are-mercy-high-single/1345893687.
Lea Caldwell Selected as Detroit PAL Ambassador
Congratulations to Lea Caldwell '21 on being chosen as the Detroit Police Athletic League 2018 Youth of the Year! What an accomplishment to be recognized as a student, athlete and individual of high integrity. This is a huge honor, the highest that Detroit PAL offers for youth participants and Lea will represent the over 14,000 youth that PAL serves annually. As the Youth of the Year, Lea will have many great opportunities that will involve community engagement, public speaking, education and leadership exposure, and much more!  Lea attended the grand opening, ribbon-cutting for new Detroit PAL field at old Tiger Stadium on March 24th and remarked to WDIV, "Being in the Detroit PAL gives you a sense of building character, how to accept constructive criticism, and how to be a leader. Children can come and play however they please, and come get off the streets and actually have a sense of pride that this is our home."
Congratulations to Anastasia Warner '18 who was named a National Merit Scholarship Finalist!
CONGRATULATIONS Scholastic Writing Award winners Clarisa Russenberger '18 and Anastasia Warner '18! Clarisa received a Silver Key in Journalism and Honorable Mentions in Journalism, Personal Essay/Memoir and Poetry. Ana received a Gold Key in Journalism, Silver Key in Journalism and Honorable Mention in Personal Essay/ Memoir. Such amazing talent and what an outstanding achievement!
Way to go Jenny Jaramillo '20 who entered the "Write Michigan" contest (https://www.writemichigan.org/) in the Spanish entries category. She won the "Readers' Choice" portion!
YEARBOOK RECOGNITION - The 2017 Lore was featured in Portfolio: The Best of Herff Jones, which showcases the best yearbooks in the country published by Herff Jones.
iWizards Wonderful Workshop
Since their inception in 2012, the Mercy iWizards have held an all day workshop. This year's occurred on February 8th with 17 iWizards attending. The day began with a video conference with Apple Inc., getting suggestions and encouragement for the day's projects. The students planned a new structure for the new student iPad orientation for 2018-19 school year. They selected topics for project teams in order to develop the materials for the orientation. The iWizards who will be presenting at the MACUL Conference in Grand Rapids on March 8, worked very hard on the conference presentation. While others went to the computer lab and began brainstorming on a new iWizard designed app called Splash. The day ended with video conferences with and Pinch Elementary School in West Virginia and Baker High School in upstate New York. Enjoy some more photos of the day here taken by iWizard, Katie Bulloch.
French Club Valentines for the Sisters of Mercy
Thank you to the Mercy French Club students for making beautiful and thoughtful French Valentine's Day cards and well wishes for the Sisters of Mercy!
The 2017-2018 Quiz Bowl season has wrapped up! Mercy's Varsity and Novice teams competed well throughout the season, earning positions in the league tournament.

In the regular season, the JV team clinched 1st place in the East Division, earning a spot in the league playoffs. After a grueling playoff, Mercy JV finished 2nd overall in the league, with an impressive 12-2 record. In addition, the following students were selected as MVPs for their outstanding contributions to their teams. Congratulations!
Varsity:  Mary Dunstone '18
Junior Varsity:  Rachel Vinarcik '20
Novice Maroon:  Lydia Walsh '21
Novice Gold:  Sophia Tesic '21
Front (L to R):  Jewel Mansur '21, Anushka Basani '21, Colleen Thompson '19, Lydia Walsh '21, Alex Beverly '21, Sophia Tesic '21, Lili Omilian '20
Back (L to R):  Mr. Ken Wolffe, Yasmine Ayar '18, Mary Dunstone '18, Raquel Segars '21, Ever Robak '21, Makenna Smith '21, Rachel Vinarcik '20, Grace Kruse '20, Mrs. Ann Lusch, Mrs. Lauren Marquard
Not pictured:  Joelle Joyner '18, Olivia Milosevich '21, Hailey Odish '21, Emilia Puda '20

Congratulations to the 14 students from Mercy's Art Department who won 34 awards in this year's Regional Scholastic Art Awards competition.  
 
Special congratulations to seniors Mayssa Fakih and Olivia Gibaratz. Their portfolios made finalist status and will compete in New York City for talent scholarships. Several Mercy students also won gold keys (first place) and their pieces will compete in New York for national awards in March. These students are: Olivia Gibaratz (one gold key in painting), Seung Yeon Lee (one gold key in drawing), Madeline Patterson (one gold key in photography), Sojourner Posch (two gold keys in photography), Angela Rea (one gold key in drawing), and Clarisa Russenberger (four gold keys in photography).
 
The College for Creative Studies sponsors the Southeastern Michigan Art Region, which, this year, received more than 6,400 individual entries and 263 senior portfolios from students in Lenawee, Livingston, Monroe, Oakland, Washtenaw and Wayne Counties. Jurors selected 1103 individual category works to receive gold key, silver key, and honorable mention awards. 101 gold key portfolios were selected from 263 submitted.
 
Regional winning entries will be on display in the exhibit at the College for Creative Studies, Walter B. Ford II Building from Monday, February 5th - Friday, March 2nd. Hours: 9:00 am - 5:00 pm Monday - Friday, noon - 5:00 pm Saturday and Sunday. The regional ceremony for Oakland County Private schools will be held on Tuesday, February 6, 2018, at 7:00 p.m. in the Detroit Film Theater of the Detroit Institute of Arts.
Photo gallery of Mercy student award-winning pieces are posted
here
.
Sophia Agrusa '20 Drawing - Honorable Mention
Lauren Chalker '19 Drawing - Honorable Mention
Mayssa Fakih '18 Art Portfolio - Gold Key; Painting - Silver Key; Painting - Silver Key
Olivia Gibaratz '18 Art Portfolio - Gold Key; Painting - Gold Key; Painting - Silver Key; Painting - Honorable Mention
Sarah Gormley '19 Photography - Honorable Mention
Abbey Hembree '18 Photography - Silver Key; Photography - Silver Key; Photography - Silver Key; Photography - Honorable Mention; Photography - Honorable Mention; Photography - Honorable Mention
Jennifer Jaramillo '20 Drawing - Honorable Mention
Seung Yeon Lee '19 Drawing - Gold Key; Drawing - Honorable Mention
Madeline Patterson '20 Photography - Gold Key; Photography - Honorable Mention
Sojourner Posch '19 Photography - Gold Key; Photography - Gold Key; Photography - Silver Key
Angela Rea '20 Drawing - Gold Key; Drawing - Silver Key
Karina Roberts '21 Photography - Silver Key
Clarisa Russenberger '18 Photography - Gold Key; Photography - Gold Key; Photography - Gold Key; Photography - Gold Key; Photography - Silver Key; Photography - Silver Key
Jordan Tomei '18 Drawing - Silver Key
---
Instrumental Solo & Ensemble - The following students participated in the District 4 Instrumental Solo and Ensemble on January 19th: Sophie Vanderweele, Emily Susitko Hana Tourner, Lili Omilian, Kamerin Williams, Isabelle Fanning, Candice Threat, Hannah Blakey, Peyton Babb, Cinya Hou, Aisling Heaphy, Kathryn Wolf, Lily Beasley, Sophia Tesic, Marissa Ernat, and Mackenzie Farrow. Going on to the State Festival on March 17th and having received a Division I rating, will be Kathryn Wolf, Lily Beasley, Cinya Hou, Sophia Tesic, Sophie Vanderweele, Aisling Heaphy and Mackenzie Farrow.
---
MSVMA District Solo & Ensemble - The Mercyaires performed along with the following students who worked hard to prepare solos for the MSVMA District Solo & Ensemble held the weekend of January 19th. Those who earned a *Division 1 rating advanced to State: *Yana Ebbing '21; *Cara Forfinski '18; *Nathalie Gijsbers '19; Bridget Hardigan '18; *Kylie Kreucher '19; *Alana O'Donnell '18; *Anna Sauer '20; Raquel Segars '21; *Cayla Stus '20; *Madeleine Surowiec '21. Bravo!
State Honors Choir and Solo & Ensemble - Congrats to the following students were also selected by audition to represent the Mercy vocal music department at the MSVMA State Honors Choir: Kylie Kreucher '19; *Alana O'Donnell '18; Cayla Stus '20.
---
Miss Malta 2018 Senior Annie Acho Tartoni Special Recognition
- Congratulations to Annie who was recognized on the Capital House Floor by Rep. Klint Kesto in Lansing as Miss Malta 2018. Rep. Kesto, along with Rep. Darrin Quiroz Camilleri and Rep. Christine Greig, presented her with a lovely certificate. Annie had the opportunity and pleasure of spending the day with Rep. Kesto and was introduced to a number of Representatives for the State of Michigan. Annie's platform as Miss Malta is Safe Driving by Avoiding Texting, which has gained recognition from Ford Motor Company. She will be working with "Ford's Driving Skills for Life" program and speak to teens on the importance of safe driving.
---
---
Mercy Multi-touch Book Now Available 
Mercy is proud to announce our
'Education and Technology at Mercy High School Michigan'
Multi-touch book is now available at the iBooks Store!
This Multi-touch book was submitted with our application to be an Apple Distinguished School. The program required two major application components:
Mercy had to commit to 85% of its teachers becoming Apple Distinguished Teachers

The school had to submit a multi-touch book which addressed five different areas of innovation using technology.
Quiz Bowl- Mrs. Lauren Marquard and Mrs. Ann Lusch are coaching the Quiz Bowl team this year, along with parent volunteer Mr. Ken Wolffe (father of Emily Wolffe '14). The first meet of the year was held on November 14, and all teams competed vigorously.  Mercy's JV team is currently undefeated and sitting at the top of their division!  We would like to congratulate all of our competitors, and we wish them best of luck for the rest of the 2017-2018 season!
Varsity 
Junior Varsity
Novice
---
French 2 House Projects from Around the World
| | | |
| --- | --- | --- |
| | | |
Madame Campbell's French 2 students recently decorated her classroom with 40 original design architectural creations of authentic French homes from around the Francophone world. Each student was assigned a region from the French speaking world to research using actual real estate listings from French websites. Once the student found a home they would like to build, its location was found using google earth and google street view. A real estate listing was written by the students in French and shared with members of the class. The homes had to be built, decorated artistically and culturally authentic, with all rooms and furniture labeled in French to reinforce the vocabulary of the lesson. Students used the Tinkercad program and our 3D MakerBot replicator printer in the media center to make at least 1 piece of furniture in the homes. Most homes have many floors and some roofs come off to display the detailed furnishings and interiors of the many rooms included. The homes built by the students are very authentic and demonstrate hours of dedicated hard work which surpassed all expectations. The homes are used in an oral assessment in which the students role play prospective real estate agents and potential buyers using French to negotiate the sale or lease of the property, based on a particular need and situation given in class. This was a fun project and made learning French relevant and functional! Come find your dream home in our Parade of French Homes from around the world from France, Louisiane, Sénégal, Saint-Martin, Québec, Madagascar to Tahiti and French Polynesia.
---
What an achievement to play a sport at the college level! Big CONGRATULATIONS to our senior college bound Marlin athletes: Brooke Madak - Basketball, Siena Heights; Anna Dixon - Softball, Hillsdale; Alexa Rybicki - Diving, University of Pennsylvania; Mya Loniewski - Swimming, University of Maryland (Baltimore Cty); Kendall Goit - Swimming, University of Pittsburgh; Katie Minnich - Swimming, University of Michigan. Good luck, girls!
---
Ethnic Bazaar 2017
Ethnic Bazaar is long-standing Mercy tradition which highlights the diversity of Mercy through song, dance, poetry, prayer, food, and fashion. Everyone at Mercy takes pleasure in this special day to honor, educate, and incorporate different ethnicities.

Human Relations Council proudly presented Ethnic Bazaar "We are the World" on November 17th. The Drama Studio was packed with cheering students and proud parents watching the wonderful performances. #WeAreMercy
---
Mercy girls went on a road trip and showed some real Mercy spirit during Spirit Week 2017. Check out a video compilation from Newsprint here. Our hearts were also filled from serving and spreading the spirit of love and compassion on Make a Difference Day! #MakeMercyReal #WeAreMercy
---
The following students have been selected for the MSVMA High School Regional Honors Choir, which is made up of the top voices in our region. They will perform together at a concert at South Lyon HS on December 3. These students will also have an opportunity to audition for State and All-State Honors Choir.
| | |
| --- | --- |
| Raquel Segars | Alto 1 |
| Alana O'Donnell | Alto 1 |
| Elinor Harrison | Alto 1 |
| Kylie Kreucher | Soprano 1 |
| Kristina Porcalla | Soprano 1 |
| Cayla Stus | Soprano 1 |
| Cara Forfinski | Soprano 2 |
| Emma Pickett | Soprano 2 |
The iWizards participated in
Global Collaboration Day
last month and staged an event to launch discussion of a global project with other student tech teams. They used FlipGrid, Google Hangouts and a Google Survey. They enjoyed hanging out with a team at Pinch Elementary in WV. The Hub was built by the iWizards last year and has members from six countries and fifteen states. Visit at 
techteamhub.weebly.com
.
CONGRATULATIONS to the following students named to the Scholastic All-Catholic Team!
| | | |
| --- | --- | --- |
| First | Last | Grade |
| Katherine | Broderick | 10 |
| Elizabeth | Chevalier | 10 |
| Marissa | Ernat | 10 |
| Grace | Fadool | 10 |
| Rachel | Glowzinski | 10 |
| Katherine | Hutter | 10 |
| Madison | Konja | 10 |
| Juliana | Petrucci | 10 |
| Angela | Rea | 10 |
| Isabelle | Sawicki | 10 |
| Grace | Turner | 10 |
| Dana | Yono | 10 |
| Madeleine | Ballard | 11 |
| Caroline | Bimberg | 11 |
| Jessica | Dillon | 11 |
| Nathalie | Gijsbers | 11 |
| Isabelle | Miner | 11 |
| Abigail | Najar | 11 |
| Kylie | Scott | 11 |
| Casey | Stoneback | 11 |
| Sophie | Vanderweele | 11 |
| Katherine | Minnich | 12 |
| Alexandra | Thomas | 12 |
| Anastasia | Warner | 12 |
---
National Merit Semifinalist -
We are proud to congratulate
senior Anastasia Warner for being awarded National Merit Semifinalist status. Anastasia represents less than one percent of US high school seniors, and reflects the highest scoring entrants in each state. We complement Anastasia on her hard work and accomplishments as she advances to the Finalist level, where she will compete for a National Merit Scholarship® award.
AP Scholars 2017 - The AP Scholar Awards recognize high school students who have demonstrated exemplary college-level achievement on AP Exams.
AP Scholars
Frankowski, Claire
Gier, Lydia
Janitz, Elizabeth
Kreucher, Jordyn
Lobbia, Allison
Mclaughlin, Claire
Ryan, Caitlin
Vanacker, Sydney
Warner, Anastasia
Yassay, Jillian
AP Scholar with Honor
Belans, Nicole
Colleran, Katherine
Cooper, Elise
Kurpiers, Sarah
Lobbia, Marissa
Nandigama, Saveri
Sanderson, Alexandra
Zheng, Yayun
AP Scholar with Distinction
Foley, Lauren
Jones, Edith
Zaremski, Giavanna
Let's Hear it for the STAFF! Mercy is proud to announce all teaching staff are 100% Apple Teacher certified! Apple Teacher is a professional learning program designed to support and celebrate educators using Apple products for teaching and learning. We are Mercy! #AppleTeacher 
MHSAA Acknowledgement - Way to go, Marlins on the following accolade from the Michigan High School Athletic Association: "The MHSAA would like to congratulate Mercy High School for receiving no negative officials reports of concern, ejection or sportsmanship during the previous school year. It is a credit to your student-athletes, coaches, administration, staff and community for demonstrating such positive sportsmanship throughout an entire school year." We are Mercy!
CONGRATS to
Lily Beasley '20
who won third place in the junior category of the US National Scottish Fiddling Competition in Pennsylvania earlier this month! All of the competitors had to qualify by winning a regional competition to compete in Nationals. Lily was the only competitor from Michigan. This is Lily's second year competing in nationals and first year to place.
Newly Elected Class of 2021 Officers - Congratulations to these new members of Mercy Student Government serving the freshwoman class!
Class Officer Board
Sophia Holdwick
Dalia Housey
Maddie Kenney
Gabi Micallef
Alexa Zydeck
Human Relations Council Representatives
Leila Hunter
Helena Kucera
Blanca Straub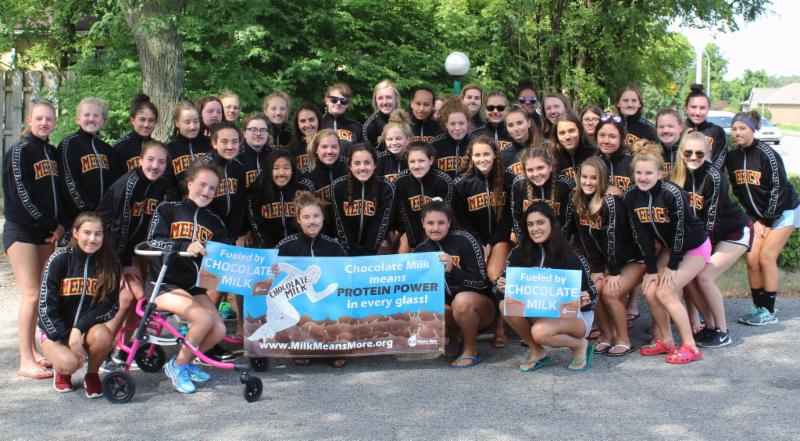 Michigan Chocolate Milk Mustache Celebrities! Mercy High School's Swim & Dive team has been named one of United Dairy Industry of Michigan's (UDIM) Chocolate Milk: Nature's Sports Drink grant recipients, which emphasizes good nutrition.
Yay, Yearbook - Lore staff received news that the 2017 Lore "This is What You Came For" was recognized with a first class ranking from the National Scholastic Press Association and a Spartan award from the Michigan Interscholastic Press Association, making it one of the top yearbooks in the country and the state of Michigan. One of the judges commented, "Lore 2017 is one of those very rare yearbooks that looks great at first glance, and even better as you look more closely at the details of each page." This marks the second straight year the yearbook has received such distinction.